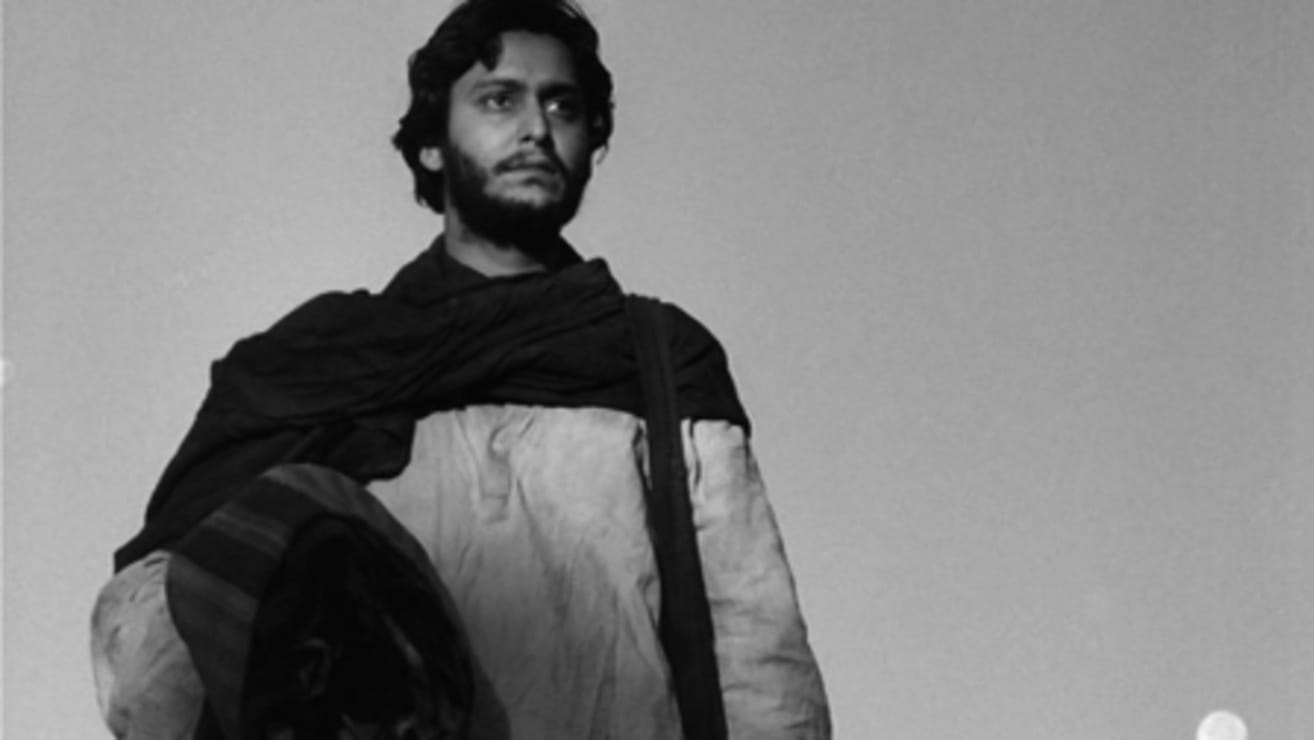 Good Lord Apu can't catch a break.
The World of Apu is the conclusion to Satyajit Ray's "Apu Trilogy" – in which we saw little-boy Apu Roy lose his sister in the first film, then teenage Apu become an orphan in the second film. At least Aparajito softened the blow by ending with Apu embarking on a promising stint as a student in Calcutta.
But The World of Apu rips all that out from under him right in the first scene – as the now-grown Apu (Soumitra Chatterjee) is dropping out of school because he's run out of money. His principal is urging him to find a way to save up and re-enroll somehow; or at least to keep up with his writing, insisting that Apu has a talent for it. And for a while, Apu does live the starving-writer life – trying to write the Great Indian Novel while selling off his books and stringing together occasional tutoring gigs as his "day job", living in a rented room near a train station and running behind on his rent. It's not the most lucrative lifestyle, so his buddy Pulu (Swapan Mukherjee) occasionally takes him out to dinner or tries to get him work to make sure he doesn't completely starve. Pulu even invites him along as his "plus-one" for his cousin's upcoming wedding, so Apu can get a bit of an unorthodox vacation.
The wedding hits a snag, however – when the groom shows up, the bride's family discovers that he has a profound mental illness, and the bride's mother calls a halt to the wedding. The only problem with that is, the family is adheres to the then-common Hindu tradition that there are certain "auspicious times" for weddings – and if you miss your window, you have to stay single. So even though she shouldn't marry that guy, bride Aparna (Sharmila Tagore) really ought to marry someone at the appointed hour. And conveniently, Pulu has brought a single dude with him…
Despite the unlikely beginnings, Apu and Aparna's marriage actually works out quite well for a while – Apu grows up a little, taking a desk job to support them and doting on the pretty Aparna, and Aparna quickly adapts to Apu's bare-bones lifestyle. They're also visibly crazy about each other; and before long, Aparna is expecting their first child, and heads home to her parents' place for a while so she can give birth in a bit more comfort. But tragedy befalls Apu yet again, and this time it looks like he may not bounce back quite as quickly.
The bits with Aparna and Apu are a sweet, and ultimately poignant, bright spot in the film, largely because of the chemistry between the pair. Remarkably, this was Sharmila Tagore's first film – and she was only fourteen at the time of filming (although she fortunately looks a bit older). Tagore's youth may be what gives her turn as Aparna the impish, playful quality that I found so charming – she's shy and scared in her first couple scenes, and understandably so, but after settling in she is swatting Apu on the butt to wake him up in the morning and teasing him about work. But it's also clear that this is just their love-language – in a more serious moment, when Apu suggests taking a second job so they can get Aparna a maid, Aparna earnestly says she'd be happier with a husband who isn't overworked. By the next scene she's gone right back to teasing Apu about his novel and his day job.
Apu also clearly loves it – he waxes rhapsodic to his landlord at one point about how spunky she is, and during an extended sequence, he spends a commute home from work stealing peeks at a letter she's written him, smiling indulgently as he reads her mock complaints about how he hasn't written her often enough, and how he'd better come for a visit this coming weekend like he promised or she will be very cross. …And in a tragic twist of fate, just as Apu is finishing this letter, he gets an unexpected visit from his brother-in-law with some bad news…
Honestly, the rest of the film pales in comparison to that bright spot for me. I've not said much about exactly what other misfortune Apu suffers, but that's not just me being coy about spoilers. The bits with Aparna are just so vividly alive that everything that comes after – and there's a good bit that comes after – doesn't really stand up for me. Apu goes wandering a bit out of grief, and the film felt like it also meandered a bit. This could, though, be a sign that I fell in love with Aparna a little bit as well.