Some people use their own good fortune to turn themselves into cultural ambassadors. They become patrons to artists or playwrights, throw chamber concerts in their homes, provide big endowments to dance troupes, or the like. They may be in part motivated by a sincere artistic appreciation, or a sense that their privilege carries a responsibility; William Randolph Hearst claimed that he bought up a lot of European artifacts for Hearst Castle because "not everyone in the USA would have the chance to go there and see it in its homeland". But they may also be motivated by wanting to show off (let's be honest, how many of his fellow citizens did Hearst really intend to invite into his house to show off his treasures?).
It's difficult to say which mix of factors motivates Biswambhar Roy (Chhabi Biswas), an aging member of India's gentry. As a zamindar, or "landlord", Roy was a semi-autonomous ruler of his family's lands in Bengal; in his heyday, he lived in a fine mansion, enjoyed riding a beautiful white horse and a gaily-dressed elephant, and doted on his son Khoka (Pinaki Sen Gupta). He had strict rules in place to protect his subjects from moneylenders like the weaselly Mahim Ganguly (Gangapada Bose). But most of all, he loved hosting recitals in his mansion's music room, sparing no expense to hire the finest talent or serve the finest wine or offer any number of other trimmings – even if he had to sell off some of the family jewels to do it. His wife Mahamaya (Padma Devi) didn't love that bit, but she tolerated his whims.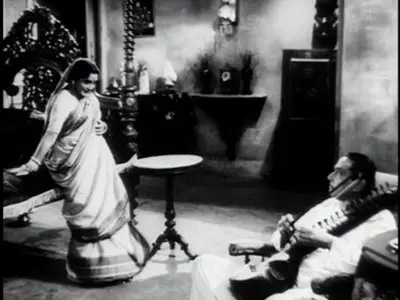 But at the start of the movie, all that is in the past (and retold via flashbacks). Mahamaya and Khoka are long gone, as are most of the servants and most of the money. Roy has been a recluse in his mansion, save for occasional annoying visits from Ganguly, and the music room has been locked up for years after a tragic incident. But one afternoon Roy learns that Ganguly wants to host a recital in his own house, featuring the latest rising star – and, well, that simply won't do if that boor Ganguly shows him up. Even if it takes everything Roy has left, he has to prove himself with one last recital.
I did find this film a little slow going in places; unsurprisingly, it showcases Indian music a lot, but the music sequences at each of the three recitals featured in the film felt a little long for someone like me who's unfamiliar with Indian music as a rule. Or perhaps I'm just too accustomed to quicker cuts, and the long static shots of a tabla player or a dancer just didn't grab me. But the performances were still affecting – particularly that of Roy's faithful manservant Ananta (Kali Sarkar), who is almost canine in his devotion to Roy and who greets the news of the re-opening of the music room with unbridled glee. There is a whole "cleaning" montage to prepare for the recital, with Ananta scrubbing and polishing and shining and dusting for all he's worth, a big grin on his face the whole time, and during the concert he is grinning just as broadly, dancing in the back of the room and having the time of his life. He seeks Roy out after the concert, once everyone's gone home, to celebrate with him – but finds that Roy has maybe made a bit too merry and Roy's various bills, fiscal and emotional, are now all due.
Ultimately, this is an affecting story about how Roy realizes he is now a relic of the past – and decides to make one last stab at dignity,