Confession first – this was a film I avoided for a while solely based on the description, as it sounded like it would be a bit of a histrionic melodrama. It took the boredom of enforced bedrest and the need to progress on the list to get me to watch. But I will admit – I was wrong to judge.
Not that it's a new favorite, mind, but it was a good deal more affecting than I thought it be – thanks mostly to lead James Mason, who stars here as schoolteacher Ed Avery. He's well-liked at work – respected by the principal and by his colleagues – and happily married with a son. He does secretly work as a taxi dispatcher a couple times a week to support them, but considers it a small sacrifice to sustain his peaceful, "boring" suburban lifestyle, along with maybe the occasional small treat for wife Lou (Barbara Rush) or son Richie (Christopher Olsen). The bigger problem, though, are strange fits of severe pain that have been gripping him more and more often. When Lou finally drags him to the doctor, he is diagnosed with a rare inflammatory disease, one which could kill him within a year. However – his doctor says they're conducting a drug trial for that very disease, treating it with regular doses of cortisone. Would he be interested in signing up?
Ed says yes, of course. And after the first few doses – he's feeling fantastic. He's pain-free for the first time in a long time, he's got boundless energy, and is generally feeling fantastic. He's in such a good mood his first night back from the hospital that he brings Lou and Richie out on the town for a shopping spree, with a new bike for Richie and two designer frocks for Lou. He's riding high back at the school, with energy to keep up with both his own class and a colleague's – although that's because he accidentally double-doses with the cortisone. But that little discovery leads him to double-dose more frequently so he can keep riding the high – a move which gradually shifts his mood from mania into outright psychosis.
Now, that is the description I read, which lead me to envision a lot of Big Acting Moments and Scenery Chewing for Mason. But he goes way more subtle, to the point that it was just as hard for me as it was for anyone in the film to agree on precisely when his behavior became a real problem. His psychotic break at the end is obvious, but all the earlier warning signs are much more fuzzy. Was the stern speech he makes at a PTA meeting a warning sign? One parent actually applauds his words, so maybe not. How about his drilling Richie on his homework? Is that mania, or just dedication? Or how about when he discovers Lou has been secretly calling the school gym teacher Wally (Walter Matthau) to discuss their concerns about him, and Ed assumes they're having an affair? Isn't that understandable? When he dramatically quits the taxi job and tells them the job is beneath him, how much of that is the cortisone – and how much is his id finally feeling like it can speak up? Mason's performance is so subtle and so controlled that he never goes into a full-on stereotypical "mad scene", even at the end when he is definitely in psychosis and babbling about drawing inspiration from the Biblical story of Abraham and Isaac.
There were even a couple of story angles that had relevance for today. Abusing prescription drugs is an obvious one – a couple scenes show Ed going to increasingly greater lengths to keep up his cortisone supply, and if you swapped out "cortisone" for "oxycontin" they would fit almost seamlessly into a contemporary tale. As would Lou's reluctance to call Ed's doctor for help; she's concerned for Ed, but she's also concerned that looping doctors in again would cost more money than they have. They're already struggling with Ed's prescription – especially after he's quit his taxi job, and after his shopping spree wiped out their savings – and any extra hospital stays might lead to a loss of work and a loss of income and doesn't all of that sound like it's from a modern drama?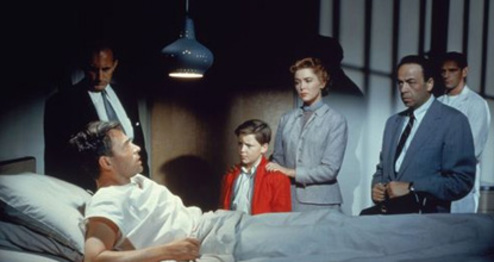 The film does opt for a more 1950s happy ending, which did ring a bit false considering Ed's state right before. But that's just as much a comment on how skillfully Mason was showing us Ed's state of mind just before.