I grew up in the 1970s, when a lot of the stars from Hollywood's mid-20th Century Golden Era were fading gently into retirement or has-been status. What this meant, though, is that they were often guests on late-night talk shows or sometimes the butt of stand-up comics. And what that means is that even though I've never seen a John Wayne movie before this project, I've still had a lifelong impression of "John Wayne" in my head; it's just that I get it from seeing Rich Little and Robin Williams' John Wayne impressions instead of actually seeing John Wayne. Wayne is definitely not alone in this – but he is turning out to be the one whose preconception has been hardest for me to shake.
At least, I wasn't able to shake it with The Searchers. But in my defense, John Wayne seems to be at his John-Wayniest here – the gruff, grouchy cowboy on a mission, speaking in a drawl and more prone to shooting first and asking questions later. In The Searchers, he's also just plain mean – a former Confederate soldier named Ethan Edwards, now living as somewhat of a drifter and turning up at his brother's place in West Texas for a rare visit. He slips his brother some gold coins in both Union and Confederate origin, urging secrecy and implying they're probably stolen. His favorite niece, 8-year-old Debbie, gets a fancy medal from a Mexican military campaign. Debbie's adopted brother Martin (Jeffrey Hunter) gets contempt, however – Martin was a foundling Ethan's brother took in, but there was a strong possibility that Martin was part Comanche. And if there's anything Ethan doesn't like, it's Comanches. (….After watching a couple early scenes of Ethan dismissively calling Martin "Half-Breed", I turned to Roommate Russ – who's seen the film before – and asked "…so he's a douche, right?")
Ethan's grudge against the Comanche is heightened when a Comanche war party draws the men in his brother's community out of town long enough that they can raid their unprotected homes. The men realize what's going on and race back – but it's too late for Ethan's family, and he and Martin discover the entire house has been burned and everyone killed. ….Well, almost everyone – there's evidence Debbie has been kidnapped instead. Ethan sets out in pursuit – reluctantly allowing Martin to come along and help. Martin bids a quick farewell first to his girlfriend Laurie (Vera Miles), the daughter of a neighbor, telling her he won't be gone long. But Martin's wrong – the search takes them five years, making it far more likely that by the time they find her, Debbie will have effectively been raised Comanche and may not want to come home. But that just makes Ethan all the more determined to find her – so he can kill her, since "livin' with Comanches ain't being alive". And that makes Martin all the more determined to tag along so he can save Debbie from Ethan at the last minute.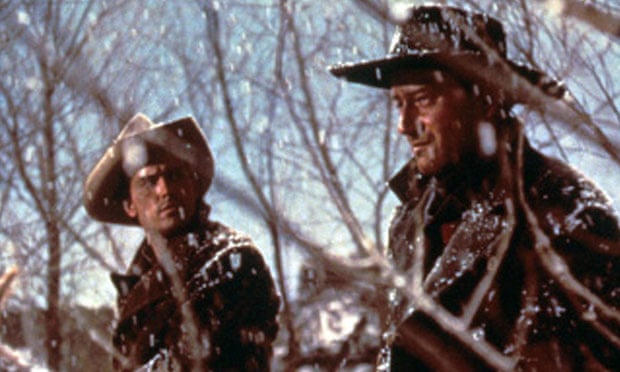 This search and its various twists and turns, and the test of wills between Martin and Ethan, are the bulk of the action. Ethan and Martin roam across what feels like much of the Southwest (although it all looks like Monument Valley) tracking down each and every last lead – a reported sighting from a duplicitous trader to the north, reports of a group of rescued teenagers at a fort in the south, even a side trip into New Mexico where they get their first glimpse of a teenage Debbie (Natalie Wood) now living as one of her captor's wives. Ethan's grudge against the Comanche gets uglier every day – in one scene, after the pair stock up on their food by shooting a buffalo, Ethan reloads his gun and shoots down more and more buffalo from the herd, snarling that "now they won't feed any Comanche this winter."
While there's a bit of a redemption for Ethan at the end, he was just pretty darn unlikeable, and I never really warmed to him enough to get over that John-Wayne template I had in my head and see Ethan as anything other than a caricature. I was far more drawn to the smaller peripheral characters – Martin, determined to stick around as the angel on Ethan's shoulder, or the feisty Laurie, frustrated at Martin's long absence (especially when he only writes her one letter in five years). Or Mose (Hank Warden), a somewhat addled older man who can tell the pair where Debbie is – but insists to Ethan that "I don't wanna tell you!" before blowing a raspberry (I think Ethan deserved that). Even Lt. Greenhill, an ineffectual U.S. Cavalry leader who turns up to "help" towards the end, was an engaging character despite obviously being intended as comic relief.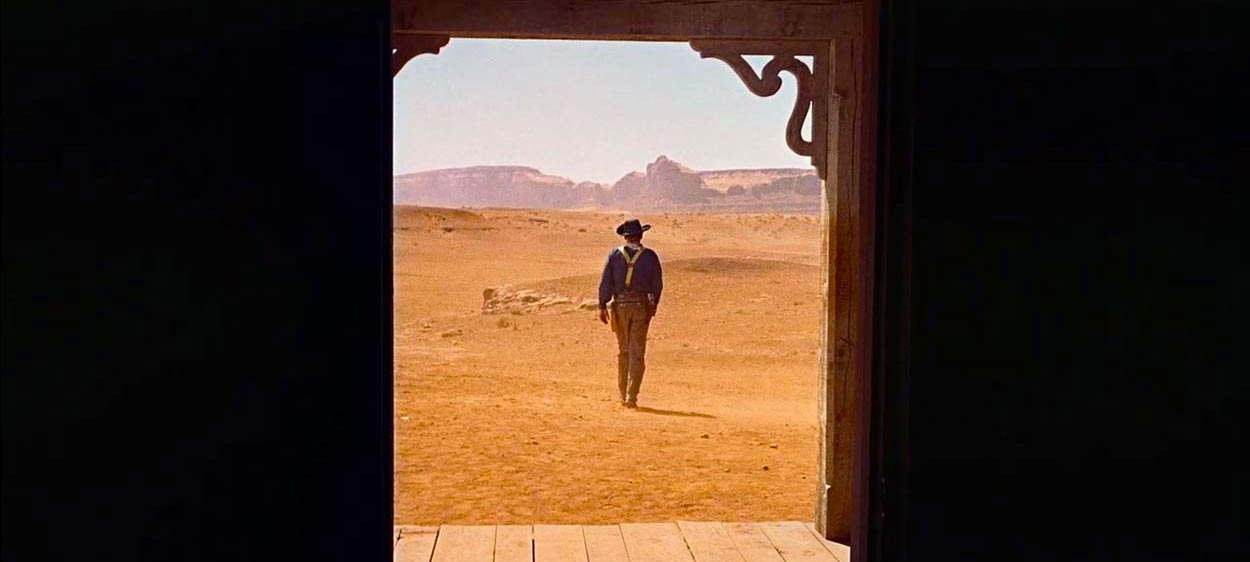 It was these other characters who saved the film for me, along with the traditionally-gorgeous John Ford cinematography and a script with more nuance than my John-Wayne-caricature dread was expecting. Or perhaps it's the flip side, and John Wayne was the only bit I didn't like; his performance was fine, it just included all of the elements that fed those caricatures I saw as a child. It's a shame – there are many who consider this to be Wayne's finest role. But I may simply have been born too late to see it for what it was.