I have a bit of a soft spot for the so-bad-it's-good kind of B films that started coming out in the 1950s. Most of them were sci-fi films, with cheesy special effects, square-jawed leading men, mini-skirted women, rubber-suited monsters and a sinister robot or two, usually scored by a theramin- or moog-synthesizer-laced soundtrack. Forbidden Planet gave me all those trappings, but also a bit more of a meaty script than I was expecting.
There's a theory that this script was actually inspired by Shakespeare's The Tempest, but I think the plot similarities are more coincidental than intentional. A very young Leslie Nielson is Commander Adams of the starship C-57D, sent to the distant planet of Altair IV to investigate what happened to an earlier expedition. Adams and his crew are expecting to find only wreckage – Earth has heard nothing from them in 20 years – but as they orbit, they receive a surprising message from a survivor, Dr. Morbius (Walter Pidgeon), who warns them not to land. Commander Adams has his orders, though, and lands anyway.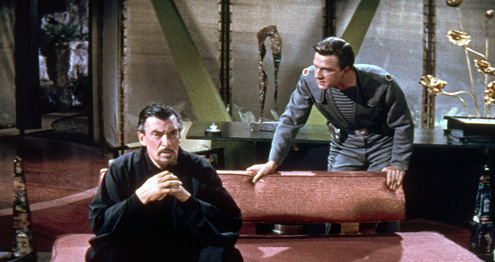 At first, Morbius' warning seems unnecessary. He's not dangerous, just a recluse; he's made a mighty nice life for himself, living in a tastefully decorated mid-Century home on Altair IV with his daughter Altaira (Anne Francis) and waited on by a faithful robot, Robbie (Frankie Darro, voiced by Marvin Miller). Over a civilized lunch (prepared by Robbie, with an early form of the Star Trek replicator) Morbius gives Adams a bit more of the backstory; the rest of his shipmates all died mysteriously, half attacked by some unknown assailant and the rest dying when their ship blew up during an escape attempt. Morbius had stayed behind with his wife and young daughter, and was the sole survivor. The assailant left his family alone after that, he says, and aside from his wife dying of natural causes some years back he and Altaira had lived peacefully ever since; but the beastie might come back, so Commander Adams really ought to be leaving soon, please. He and Altaira were fine where they were.
Commander Adams is still a little dubious, and says he just needs to radio Earth to explain the situation and get updated orders; a process that would take a few days while his crew hacks together a radio strong enough. This gives a couple others in the crew time to put the moves on the nubile and naive Altaira, the ship's cook time to discover Robbie can whip him up 60 gallons of Jack Daniels, and Adams time to discover what Morbius has been doing for 20 years – excavating and researching the relics of a long-vanished, staggeringly advanced civilization of beings called the Krell. It's also enough time for that same mysterious attacker to come back – first attacking the radio, then some members of Adams' crew. At first Adams suspects the Krell technology is somehow responsible – but soon discovers that Morbius has more to do with the assailant than even he himself is aware.
There are bits of this film that are very much of their time. At one point, when Adams discovers one of his crewmen making out with Altaira, he sends the man away – and then lectures Altaira on how she's dressed, saying it would have "served her right" if she'd been….well, it was the Hays code so he leaves that unfinished. Altaira has no idea what he's talking about, but still has Robbie fashion her a more modest gown so she can please Adams (on whom she has a crush because….well, because it's in the script I guess).
On the other hand, the ultimate reveal about the mysterious monster is pretty clever, and even a little thought-provoking. The reveal of the monster is a tiny bit hokey – we do finally see something, briefly depicted using some modest animation during a fight scene – but there's more to it than its looks. The film also set me up to have either Robbie go rogue or Morbius go evil – there's a lengthy sequence when he is leading Adams and a shipmate further and further into a Krell fortress, and each time he showed them into another room I expected him to shut the door on them and trap them, or shoot them into space or zap them with something. But Morbius isn't a mad scientist – he's just a scientist.
In essence, then, I went into this thinking I was getting an episode of Mystery Science Theater 3000 and ended up with The Twilight Zone instead.