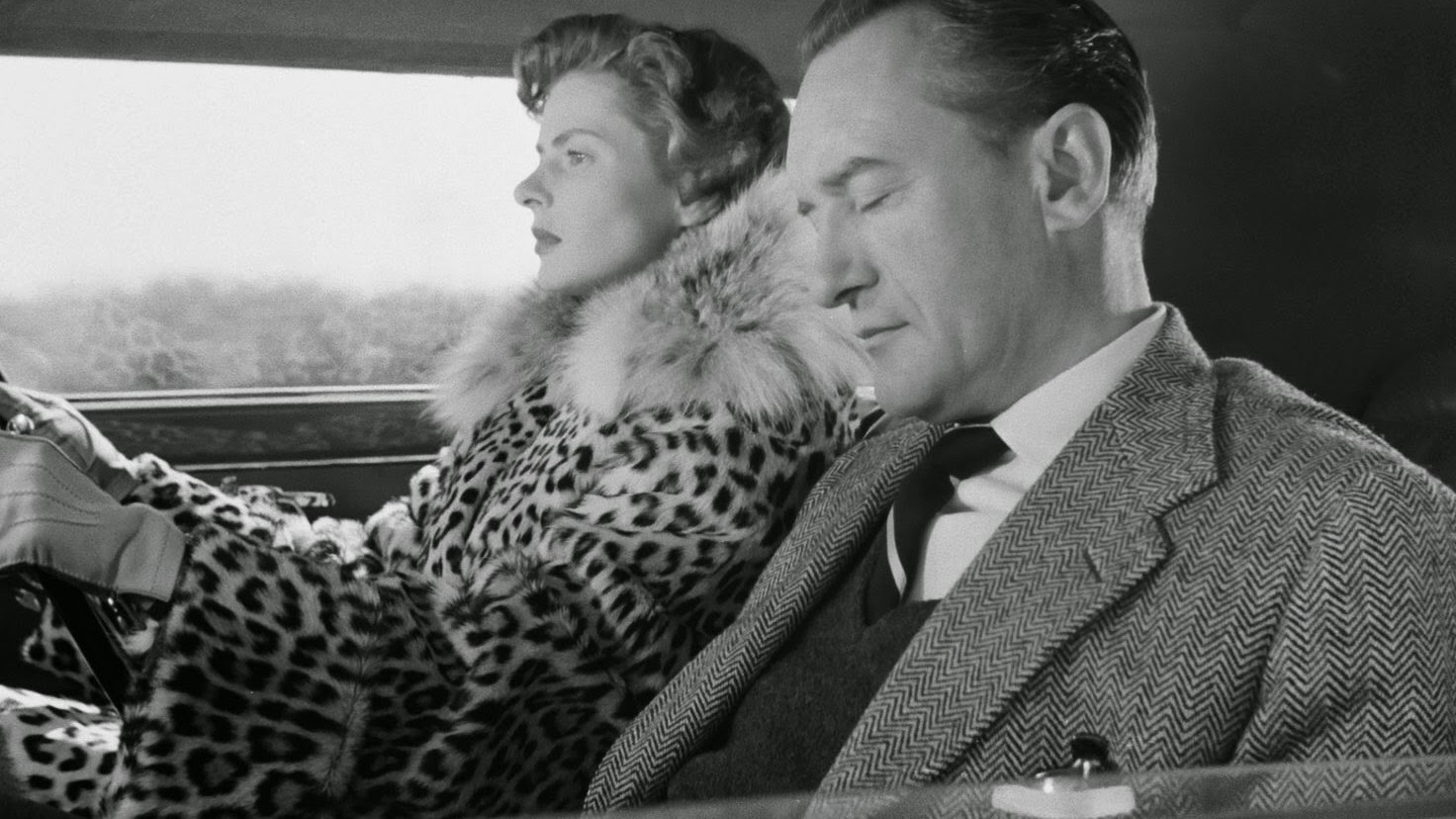 Earlier today someone asked a group blog I belong to for recommendations; they'd had to cancel a planned trip to Italy, and were looking for a way to have a "staycation" that incorporated Italian things – food, music, films.  I recommended a few – however, this is one I left off the list.  But I did so because of content.
Alex and Katherine Joyce (George Sanders and Ingrid Bergman) are an English couple who've come to Naples on business; a distant family member has recently died and left them the deed to his Neopolitan country house, and they've come to sell it.  Katherine is also there in hopes that the trip will be a nice change of pace – Alex is a bit of a workaholic, and things have been getting a little frosty between them.  But Alex is still a grump even after they arrive at "Uncle Homer's" villa and receive a warm welcome from the caretakers.  Katherine also wants to go exploring in Naples, visiting all the museums and tourist spots, but Alex is only interested in getting the sale taken care of so they can go home.
After a cocktail party, in which each sees the other flirting with other people, Alex petulantly leaves Katherine a note that he's gone on a side trip to the island of Capri for a couple days, "so she can have some fun going to museums without him". And for a couple days, Katherine does indeed do just that – taking a guided tour of the ancient statuary at Naples' archeological museum, getting a crash course in volcanology at a nearby caldera and accompanying their hosts in paying her respects at the local cemetery.  She comes away with a renewed sense of perspective about her life, her woes, and – most significantly – her marriage.
Alex, however, has used his time to try keeping up the flirtation with some of the ladies he's met.  Unsuccessfully.  So he's in a foul temper when he comes back, and not in the mood to hear about Katherine's Big New Ideas About Life – renewing the squabble they've been having off-and-on throughout the trip, bringing things to such a head that he finally snaps that maybe they should break up.  However, right before Katherine can answer, their hosts come running in to say that there's an amazing chance to go watch an excavation at Pompeii, but only if they leave right now, and they will not take no for an answer.  What will Katherine's answer be after she's had time to think?  Or, will Alex take his statements back?…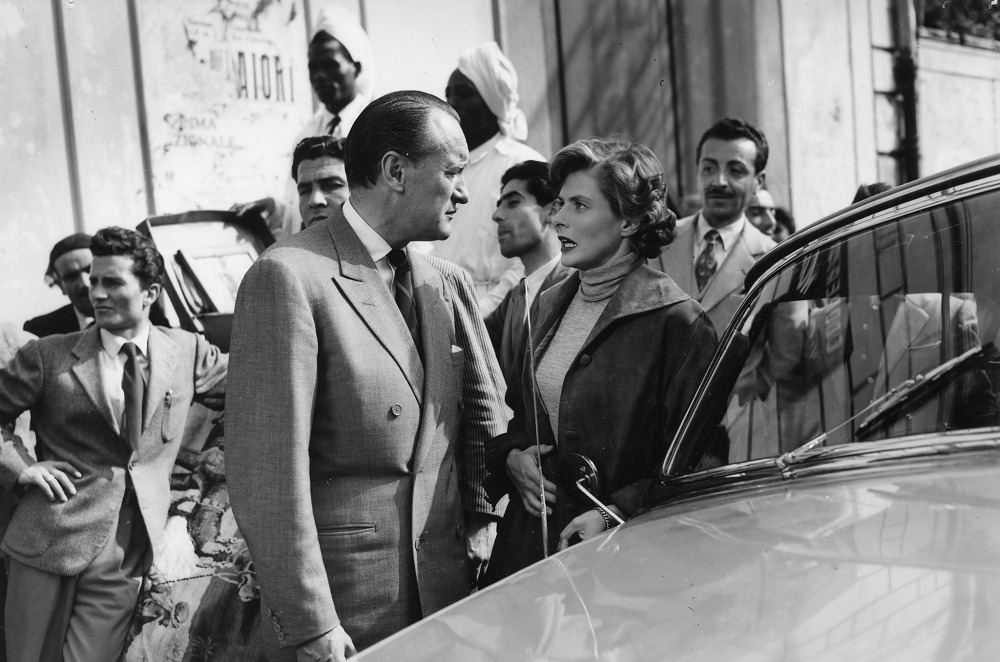 ….So, there is indeed a Hollywood happy ending. But what surprised me is when that ending comes – for a good while it looks like even the visit to Pompeii won't be enough to shake Alex out of his stodgy grumpiness, and his petty sniping at Katherine.  I think I even grumbled "man, what a dick" out loud at one point and was rooting for Katherine, gearing up for things to end with her pushing him into a river or something and doing a Beyoncé strut off into the sunset.  It worked a little  too well, in fact, for me to completely believe the reconciliation when it does come.  Even Roommate Russ, who was half-listening from the next room, poked his head in to say that even he didn't buy it.
However, that is likely due to how well Sanders and Bergman were selling their parts. This was Ingrid Bergman's third film with Roberto Rossellini – and her second after breaking things off with her husband and marrying Rossellini.  And – her first during a period when she and Rossellini were themselves in a rocky patch.  So she may have had a bit of method acting going on here, to be honest.  But she and Rossellini had still gotten a sort of shared vision going on with filmmaking – she appreciated Rossellini's somewhat flexible and free-wheeling style, his willingness to chuck the whole script for the day if he had a new idea and sort of half-improvise things.  Rossellini actually withheld the script from his stars, only releasing each scene's pages a couple hours before filming. Sanders did not appreciate this seat-of-the-pants approach – but even here, it suited Alex's perpetual bad mood.  The reconciliation at the end felt the most unrealistic, perhaps, because the rest of the film felt so real.
It maybe felt a little too real for audiences and critics of the time, however. The film was largely panned by critics and flopped upon its original release.  But younger and future filmmakers like Jean-Luc Goddard, François Truffaut, and Martin Scorcese noted its exploration of its characters' inner lives, its analysis of a bored and dissatisfied couple; how nothing really "happens" in a conventional sense, but in an emotional sense, there was a lot going on.