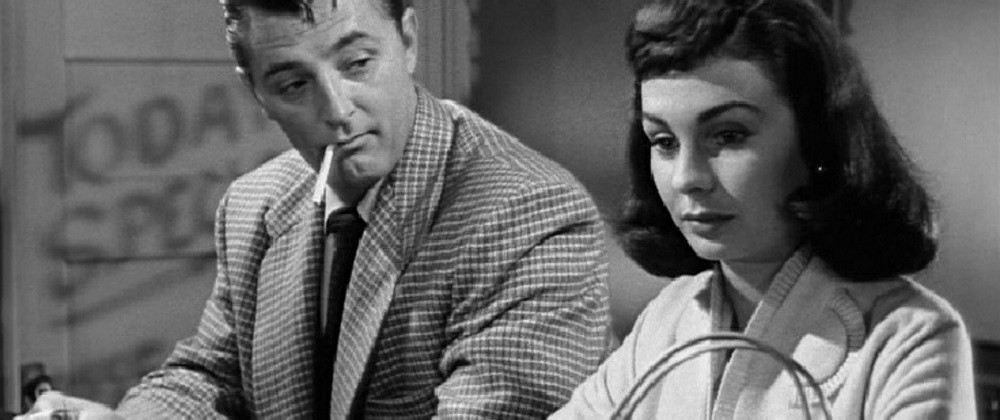 Well hello!  Apologies for the long silence first – as I implied in my last post, it's been a busy couple weeks, due to traveling and to the last-stage negotiations that go with landing a job.  But I'm home from my travels, I start a new job tomorrow, and I'm back!
And somewhere in the middle of all of that I saw Angel Face. This 1953 noir sees Robert Mitchum as Frank, one of a pair of ambulance drivers that turn up at a mansion belonging to the Tremaynes, a well-to-do family just outside Beverly Hills.  Catherine Tremayne (Barbara O'Neil) has narrowly escaped suffocating from a gas leak in her bedroom, and husband Charles (Herbert Marshall) is worried sick.  But Frank and his partner Bill check her over and give Catherine a clean bill of health.
Charles' daughter Diane (Jean Simmons) – Catherine's stepdaughter – also seems pretty distraught when Frank finds her in a side room sobbing hysterically. He's a bit brusque with her, but Diane is strangely taken with Frank anyway, following him back to the hospital and then to a diner, where he's come to meet his girlfriend Mary. But Diane persuades Frank to blow Mary off and take her out instead.
For yes, Diane is the femme fatale in this particular noir.  And I could see her manipulative nature from a mile off – it's really not a spoiler to mention Diane's efforts to break up her parents, or that she may have been involved with the original gas leak, and it's also really not a spoiler to suggest that Diane tries to pull the strings to get her hooks into Frank.  In fact, Frank comes across as a bit of a boob for not picking up on her act sooner than he does.  And yet….he does figure out her duplicity sooner than you'd think.  And I'll admit that Diane does have one last trick in store towards the end that I didn't see coming my own self.
Otherwise, though, this is a straightforward noir with a femme fatale in a lurid tale of passion and desperation.  The performances were all fine, things were shot well and all, but the story is one that…I've seen before.