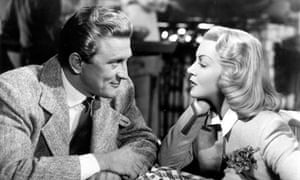 The early 1950s seem to have been a self-reflective time for Hollywood; this is now the fourth movie since 1950 that's about moviemaking itself, coming after All About Eve, Sunset Boulevard and Singin' In The Rain. This time it's a profile of a producer who's been something of a bastard – but knows how to get great work done, to the professional benefit of those he's hurt.
We actually meet three of those people first – esteemed movie director Fred Amiel (Barry Sullivan) is hard at work shooting his latest picture, actress Georgia Lorrison (Lana Turner) is in her trailer studying her lines, and Pulitzer-winner James Lee Bartlow (Dick Powell) is drafting his latest screenplay. They are each interrupted by a phone call from someone named John Shields, and each of them seems to take great delight in blowing him off (Bartlow specifically asks if Shields is paying for the call; when assured he is, Bartlow says he'll accept the call, only to bellow "Drop Dead!" at Shields before slamming down the phone).
Nevertheless, the trio still drops by Shield's headquarters that evening, where Lorrison impishly etches some graffiti on the wall before they file into a meeting with Shield's second-in-command Harry Pebbel (Walter Pidgeon).  Pebbel makes his pitch – all three of them had once worked with Shields, and all three were now Hollywood royalty. Shields himself had become something of a pariah, however; a reputation so tarnished that he can no longer get the funding for his next picture. However, if Amiel, Lorrison, and Bartlow were attached to the picture, it would attract more investors. Shields was hoping if, just this once, the three could set aside their respective grudges against Shields, and work with him once more? All three instantly refuse – prompting Pebbel to ask each one what the heck Shields had done to piss them off in the first place.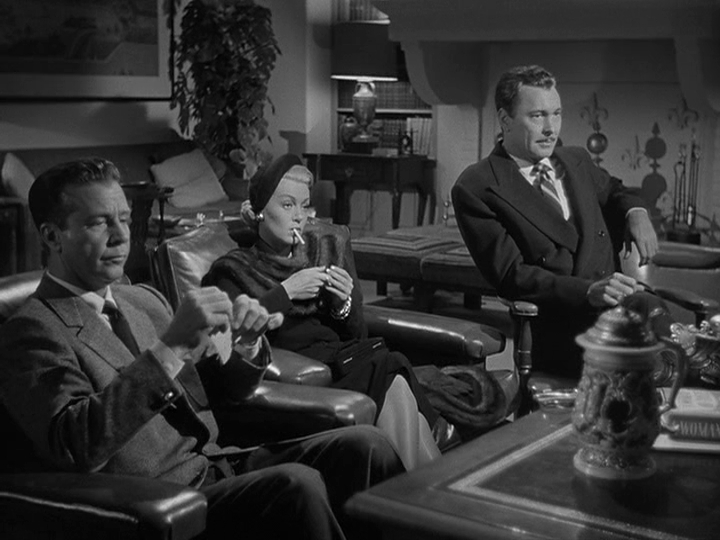 Their stories, in a series of flashbacks, make up most of the film and serve as our own introduction to Jonathan Shields (Kirk Douglas). Shields was the son of a silent-film producer, seeking to break into the business on his own.  He meets Amiel in the B-movie "poverty row" trenches, working on low-budget horror fare like "Doom Of The Cat Men".  At first they make a formidable team – Amiel has real talent as a director, but no talent for selling himself. Shields, however, has the attitude and skill for fast-talk needed to persuade studio heads to give them the budget, staff, and talent they need for their pictures – and the confidence needed to bring a passion project of Amiel's to the studio head.
Lorrison meets him a bit later, slumming as a bit-part extra and drinking away her money. But Lorrison's father was a silent-film star whom Shields idolized, and he's determined to give her a break – casting her in his latest picture, getting her off the booze, and giving her a crash-course in acting to catch her up.  He also gives into a obvious crush she starts developing towards him.  Bartlow's contact with Shields comes later still – he's a college history professor in Virginia who's written a popular historic-fiction novel, and Shields buys the film rights, luring Bartlow to Hollywood to write the screenplay. Bartlow's not interested – but Bartlow's wife Rosemary is, dazzled by the opportunity travel and meet the Hollywood cognoscenti.  But when Rosemary (Gloria Grahame) keeps dragging Bartlow away from his typewriter to go sightseeing, Shields finally steps in, absconding with Shields to his own lake house – alone – so Bartlow can focus on his work. To keep Rosemary busy, he introduces her to Hollywood-Hunk "Gaucho" Ribera (Gilbert Roland), suggesting they start keeping company…
Each one of their stories ends with Shields double-crossing them in one way or another, leaving each with a very understandably dirty taste in their mouths.  But Pebbel points out – in each case – that while Shields may have done their personal lives major damage, professionally they were doing pretty darn good, weren't they?  So…maybe they could cut Shields some slack?
That's a bit that rubbed me the wrong way, actually. Shields is pretty unpleasant – selfish, conniving, and egotistical, both personally and professionally. The fact that the people Shields has wronged are now in better places doesn't justify what he did to them – in fact, they may be where they are despite Shields' influence. But that's part of what ultimately fascinated director Vincente Minnelli – he'd spent the previous year in Hollywood, just sort of poking around and exploring the studio culture. He noticed how the most power-hungry filmmakers were nevertheless inspired by a fervent love of film, and inspired both bitter hatred and high admiration, often from the same people.
He was also tickled by some of moviemaking's more ridiculous moments; one of my favorite scenes in The Bad And The Beautiful comes during a costume fitting for the "Doom Of The Cat Men" production, with a studio costumer trying to squeeze a team of burly extras into cheap size-small cat suits as Shields and Amiel dolefully look on.
The script and the film often dive into some of the nuts-and-bolts behind the artifice, managing to make things like delivering a print to a screening or having to set up camera angles not just credible, but interesting.  The real nuts and bolts of this story, however, are still the three stories of discord between Shields and each of his previous collaborators – and their ultimate response to his invitation.
….This particular review comes with a sad footnote.  I am writing this on February 6, 2020 – but I watched the film on February 5th of 2020, late that afternoon.  I even had the fleeting thought halfway through that Kirk Douglas' son Michael looks uncannily like his father.  Just a few minutes after the film ended, Michael Douglas made the public announcement that his father had just passed away, at the age of 103.  The Movie Crash Course extends its sympathies to the Douglas family.