It's been a bit of a week here at the Crash Course; I'm still working on the review for the latest film for the list, so in the meantime here's a hot take on three more of this year's Best Picture nominees.  (The first take is here.)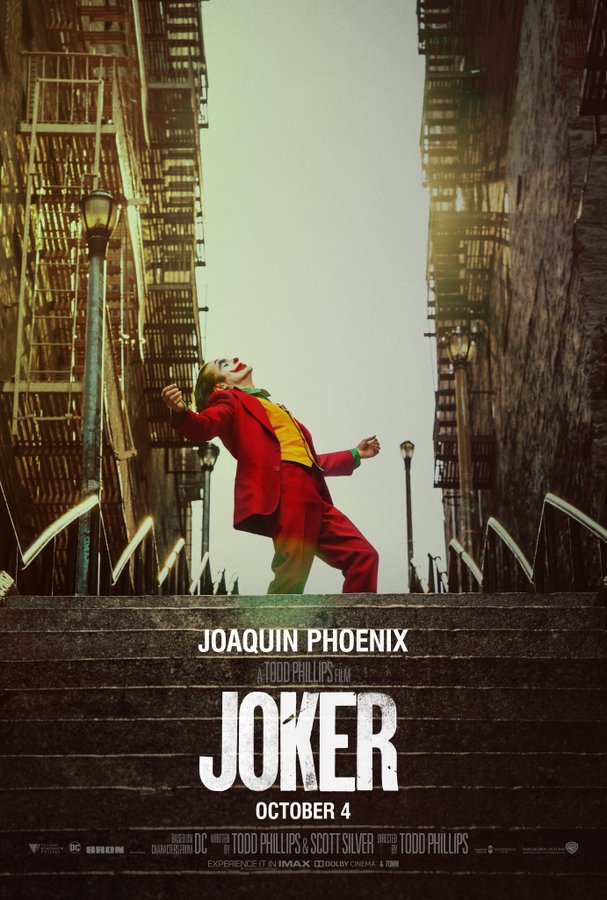 I'm listening to Adam Savage's podcast as I write this (I've said before, Adam is the unaware grandfather of the blog).  In one episode they discussed Joker in passing; one of his guests said that they would have liked this film better if it hadn't been tied to the comics character, and I think I agree.  There's very little "Batman" content anyway, save for some names and a bit of a gratuitous "hey let's have a scene where the Waynes get shot in an alley" moment; the rest of the film is all about "society is grossly unfair to the disadvantaged and downtrodden", and I think it would have been better if they'd just focused on that.  And no, this isn't a glorification of violence and a celebration of the downtrodden rioting and overthrowing their oppressors either – Joaquin Phoenix's "Arthur Fleck" is clearly an anti-hero, or at least the film makes a hard turn into presenting him as such in the last act (we learn that the nature of one particular relationship he had with another person was ultimately all his fantasy, and that should make you question how much else we've seen from his perspective is real as well).
Joaquin Phoenix was fine; I'm not entirely sold on it winning the day for Best Actor.
I saw this during its original release, and…I mean, it's fine, but I'm not certain why it's gotten the Best Picture nomination.  This is the second time that Quentin Tarantino has set up an alternate-history timeline that I'm aware (he killed Hitler with Inglorious Basterds, and here he saves Sharon Tate), and I'm not entirely clear why he did when the rest of the film was actually a strong enough tale of Old Hollywood learning how to give way to the new.  A part of me almost wishes he cut out the plot thread with Sharon Tate (here played by Margot Robie) altogether, and focused just on Leonardo DiCaprio's "Rick Dalton" and his long-suffering stunt double Cliff (Brad Pitt) – their tale is an interesting study of an aging actor coming to terms with aging out of his glory days, and how his own career is impacting Cliff's much more tenuous career.
However, cutting out Sharon Tate would also mean you cut out this lovely sequence early on when Sharon Tate spontaneously stops into a movie theater to watch herself in The Wrecking Crew – she's a new enough actress that she can see the show in relative anonymity, and gets to genuinely enjoy the audience reactions at her performance.  It's a sweetly endearing scene, and I think I might have missed it somehow if it weren't there.
So Roommate Russ and I made for a really interesting audience for this – I've never read the original book, but have a bit of familiarity with the original story from other sources; I've seen parts of the 1994 version, and as a kid I owned a strange quasi-graphic-novel version, with another author retelling the story alongside a lot of single-panel illustrations.  Roommate Russ was himself completely unfamiliar with the story other than it was "young women coming of age or something like that".  So we may have been a good test audience for seeing how Greta Gerwig's playing around with the timeline affected the work.
I'm not sure if that's a spoiler to state that.   But that was a really interesting move that Gerwig made – instead of following the March sisters chronologically, as the book does, Gerwig's film jumps between the sequences with Jo, Meg, Beth, and Amy all grown up, and the sequences with them as younger girls.  So, we start with Jo in New York and with Professor Bhaer hovering around, and jump back to Meg and Jo trying to get ready for a fancy ball with Beth and Amy looking on.  Then forward to check in on Amy in Paris with Aunt March, and then back to the Christmas-without-father scene that opens the novel.
Plotwise, that did some really interesting things to the story. I filled Roommate Russ in on how the book is originally structured; we agreed that this take created more interesting tension.  We see the adult Meg struggling to make ends meet with her husband John before we see the teenage Meg at a fancy ball in a borrowed dress; when a disapproving Laurie meets her and she pleads with him  to "let me have my fun tonight," it's surprisingly poignant, since we have already seen where she will eventually end up.
Gerwig has also thankfully cut out a lot of Alcott's original sermonizing.  I remembered there was still some of this in the book I read, and I also remember a lot of it from the sequel, which I have read.  There seems to have been a common structure to a lot of the chapters; one of the sisters would get into some kind of scrape, usually as a result of not listening to Marmee's advice, chaos would ensue, and Marmee would gently chide them and they would quietly resolve to straighten up and fly right.  But the reason why the March sisters have been such vivid characters for so long is that they are characters – imperfect, independent, and spirited, and Gerwig lets them stay imperfect.
However – a lot of the early scenes (early in the movie, that is) felt weirdly rushed and choppy. Gerwig's March sisters have a habit of all talking over each other at the same time, which does feel natural but also made it feel like I was racing to keep up with them all.  Also, more disappointingly, we miss out on a lot of the development of some of the relationships – we get only one or two scenes between Jo and Professor Bhaer, only one scene with Meg and John, and a scant few scenes with Jo and Laurie (and that's counting the famous scene where she rejects his marriage proposal).  By the time Jo is turning Laurie down, we should have a much better understanding of why that pair is so fond of each other; but we haven't seen them becoming fond of each other.  There's that one dance scene that you see in the trailers, a couple quick scenes where they clown around in the background, and…that's….kind of it.  Laurie actually has as many scenes with Amy and Meg as he does with Jo, and yet somehow we're just supposed to get that Jo is the one Laurie is most into.
Those who know me might be chuckling to themselves and thinking that I may simply be saying that because Laurie is played by Timothée Chalamet (I became an instant fan after seeing him in Call Me By Your Name, but more about that much later in the list), so I hasten to add that poor Professor Bhaer gets even less attention, and the film is structured in such a way that by the time he shows up to try to win Jo over, some audience members may have actually forgotten who he is.  We similarly know little about Meg's beloved John save for a scene or two.
On the other hand, there's a lot that Gerwig has discovered in the novel about economics, and especially how women in the 1800s were kind of screwed over.  There's a killer scene when Amy – who's presented as a pretty pretty princess in the novel – delivers a devastating smackdown to Laurie about the economic realities that women in society face.
Florence Pugh is nominated for a Best Supporting Actress Oscar this year, and rightly so.