I'm of two minds about this film – on the one hand I was a little put off by the melodrama, but on the other, I was intrigued by the story itself, and probably saw some of the same things that lead Charlie Chaplin to call this film "the greatest movie ever made about America."
Chaplin was referring to the ambition and aspiration of the film's hero, George Eastman (Montgomery Clift), the poor nephew of a successful bathing suit maker. George has turned up at his uncle Charles' estate looking for work, and his uncle is all too happy to help, giving George a little cash to get a room in a boarding house and inviting him to come by the factory the following day. George is dazzled by his uncle's estate, and by the fact that socialite Angela Vickers (Elizabeth Taylor) is also a guest at uncle Charles' place; Angela's exploits are often covered by the press, and she's George's celebrity crush. But George's job turns out to be unglamorous grunt work on the factory floor, keeping him out of Angela's league.  Instead, George starts keeping company with Alice (Shelley Winters), a mousy girl who sits next to him on the factory floor. Alice is just as dazzled by the Eastman lifestyle, and considers George near-nobility just because of the family connection – even though he's a factory grunt and lives in a boarding house just like her.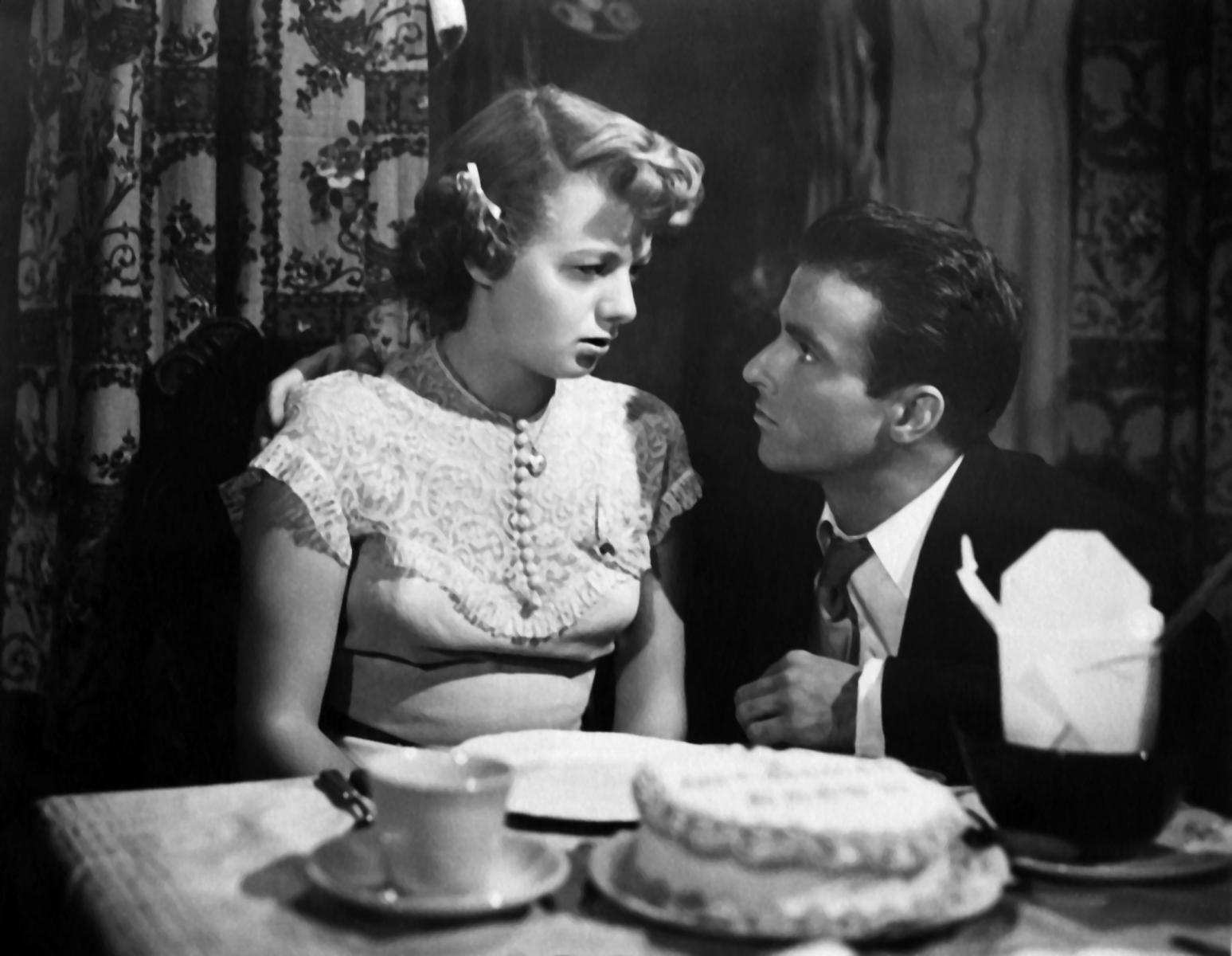 A few months later, though, uncle Charles promotes George up to a management role and starts inviting him to the house more often – giving him a chance to meet Angela at last. And miraculously, she's just as taken with him as Alice, inviting him along as her escort to the night clubs and house parties in high society. And right when Angela invites George to her parents' lake house so he can meet her father, Alice shares some news – she's pregnant.  She's also just discovered George is two-timing her with Angela, and is all too happy to spill the beans to the Vickers unless George marries her.  A panicked George suddenly remembers a story Angela mentioned about the lake by her father's house – some kind of tragic accident, where a couple staying at the cheap resort across the lake rented a rowboat that capsized, drowning them both.   And hey, didn't Alice tell him once that she couldn't swim?
It sounds like the perfect way out, so George suggests to Alice that they take a little vacation at the lake resort to talk things over – maybe they can take a boat ride?…
…So, there are some really cool shots in this, that especially play up the culture and class divide between Alice and Angela or that point to George's desire to cross from one to the other. The factory floor in the Eastman plant is filled with huge murals of models showing off the various Eastman swimsuits, and on George's first day he frequently looks up at the carefree, toothy-smiling women in the ads, and then to the dull, frumpy women on the factory floor around him.  A later shot uses sound in a chilling way – George is at the Vickers' lake house, but has been strangely moody, so Angela rounds up her friends to drag George out on the speedboat. But as the boat roars away, the camera lingers on the dock, closing in on a radio that has just started to broadcast a news bulletin about the body of a young woman who's just been discovered floating in the lake by a capsized boat. However, we only hear the report in bits and pieces, since it is periodically obscured by the roar of the speedboat and the whoops of Angela's friends as they speed back and forth across the lake.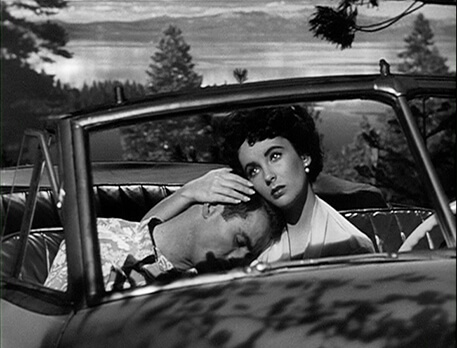 ….Yeah, Alice does meet with an unfortunate end in this. It's implied that George didn't kill her outright, though – but whether he really tried as hard to save her as he could is a bit more vague. And that leads me to my biggest complaint – that a lot of the last act of the film consists of Montgomery Clift looking moody and brooding and tortured, torn between elation that Angela is all his now, and his own guilty conscience (he didn't kill her, but is ashamed he considered it).  Elizabeth Taylor is similarly reduced to embracing him again and again with pleas that George unburden himself, and promises that she'll love him no matter what his secret happens to be.  It does make sense for George's character, as written, to feel guilty, but I felt it verged a little too much towards the melodramatic for my taste and wish they'd sustained the class commentary that was bubbling just under the surface throughout the rest of the film.