My first trip to Ireland was during college, when I stayed with a longtime friend (I swear this story will be relevant). My friend's family all took turns showing me around; her father and brother Dónal, then aged fifteen, were the ones who brought me to Blarney Castle.  Afterward we were having a browse in the gift shop, and I quickly noticed that the Muzak they had in the shop was an assortment of saccharine-sweet perky choral arrangements of "auld country" Irish songs, like "Danny Boy" and "When Irish Eyes Are Smiling"; think, like, Lawrence Welk crossed with Burl Ives.  With each new song, I would glance up at the speakers and grimace at the cheese. After several minutes, Dónal noticed my reaction and walked over.  "I just want you to know," he told me emphatically, "that this is the sort of music that embarrasses us."
Dónal's voice was in my head during the early stages of A Quiet Man, unfortunately. The first few scenes cover the arrival of Sean Thornton (John Wayne) to the town of Inisfree, a picturesque little country village.  The locals hear his U.S. of A. accent when he asks directions, and fall all over themselves offering their services as tour guides.  Is he hoping to catch trout, perhaps?  Or golf?  What has brought him to Ireland on his vacation?  But Thornton baffles them all with the news that he's not a tourist – he's moving there.  Or, rather, he's moving back there – he was actually born right there in Inisfree, in the little cottage next door to the wealthy Squire Danaher (Victor McLaglen).  The family had to emigrate when he was a baby, and he'd heard tales of the place at his mother's knee as a lad – and had sworn that if he ever made his fortune, he'd move back and buy it. And, well, there he is.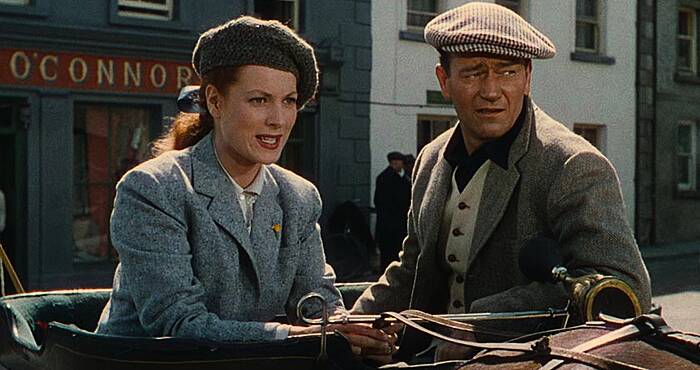 His purchase attracts the ire of Squire Danaher – who'd planned to buy the spot himself – and the interest of Danaher's sister Mary Kate (Maureen O'Hara).  He is similarly smitten, and the pair begin a courtship – a bumpy one, thanks to Thornton's unfamiliarity with Irish customs.  One particular bone of contention is Squire Danaher's refusal to give his blessing to the union.  If she and Thornton were to marry, the Squire warns, he will keep all of Mary Kate's possessions, and pocket her cherished 350-shilling dowry.  Thornton doesn't care – he's got all the money he needs and he's in love – but Mary Kate wants her stuff.  And when Thornton seems strangely unwilling to fight on her behalf, she gets mighty cheesed off.
Most of this is set against some lush and verdant green fields and in little quaint village streets, with supporting characters straight out of Volume 1 of the Handbook of Irish Stereotypes – the just-folks priest who occasionally takes a wee drop, the proper widow who's scandalized by others' misbehavior, the amiable tramp who's perpetually drinking.  The whole film ends with a ten-minute fistfight which the whole town "comically" turns out to watch, with the amiable town drunk taking bets on the outcome.  It's just what I was afraid of seeing – drenched in twee and the sort of thing that would embarrass Dónal.
And yet…it wasn't all.  I was surprised to see that there was actually some depth here (well, not much, but more than I was expecting anyway).  We're meant to initially think of Mary Kate's insistence on her dowry as mercenary; but as the film goes on, you realize that she's kind of got a point. Her stuff is hers, and it is ridiculous that the arcane rules of a patriarchal society are allowing her brother to keep hold of it. There's also a moment when Mary Kate is consulting with the parish priest about Thornton, and for whatever reason is too embarrassed to speak the details aloud.  I started out sighing at Mary Kate's modesty – but then the priest asked her if she'd be more comfortable telling him in Irish, and suddenly, Maureen O'Hara was saying several lines in Irish Gaelic, a language I didn't think that Hollywood even knew about, much less ever used.
Thornton's very trip, too, is something of a telling exercise in wish fulfillment on a grand scale. The Quiet Man is a passion project of director John Ford's, who was one such emigrant from Ireland (this is the film for which he had to make Rio Grande first), and no doubt had his own memories of Ireland, as did many emigrants or children of emigrants, most of them now gone rose-colored with time. The image he was presenting of Ireland was an older-fashioned, quainter, idealized one, with lush green fields surrounding picturesquely crumbling cottages and charmingly quaint people.  It's very likely the same idealism that made "Danny Boy" so popular on this side of the Atlantic.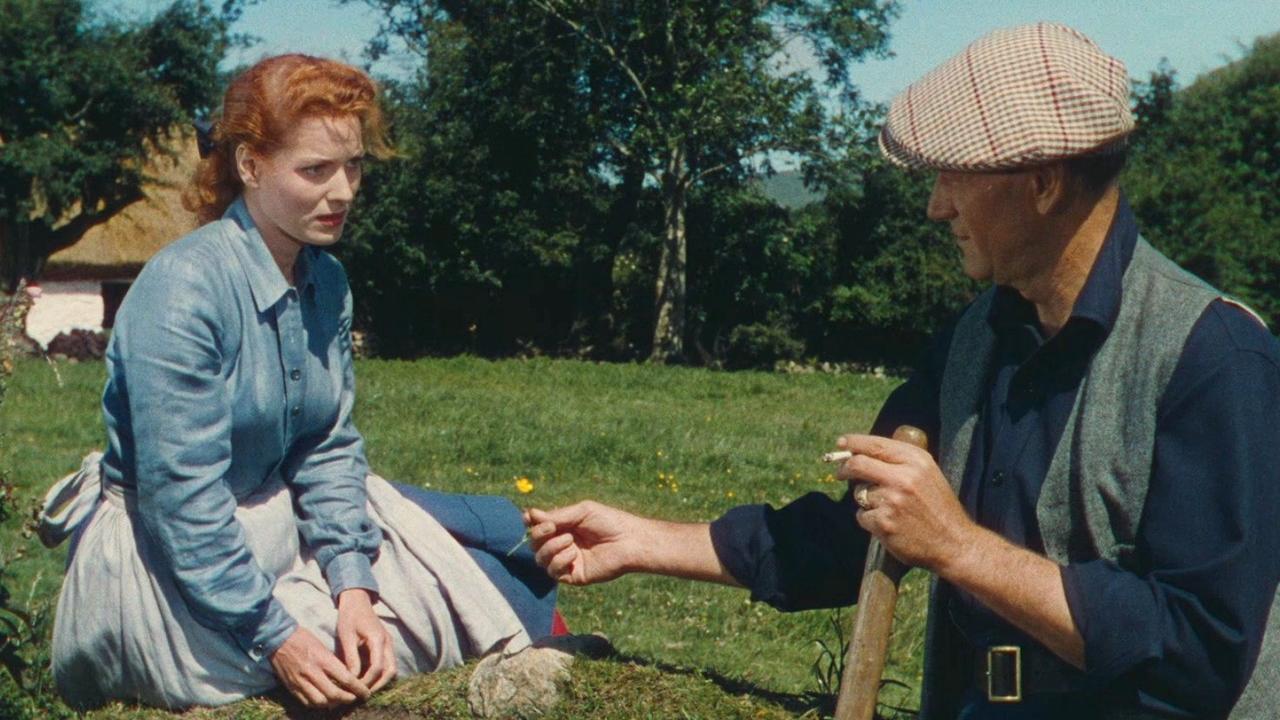 ….I realize this is coming across as more of a reflection on the origins of Irish-culture stereotypes than it is on the film itself.  I hold Dónal partly responsible.