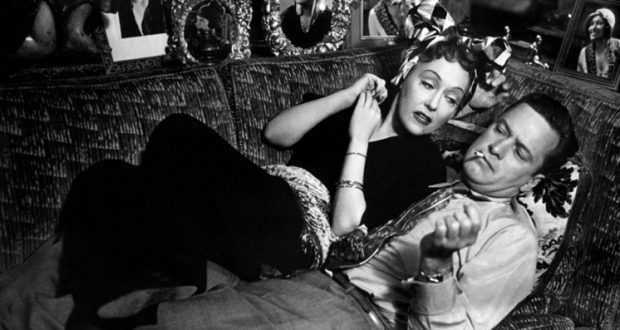 I feel like I'm cheating a little, because I've already seen this and already knew I liked it.
Odds are you have too – this is an often-seen and often-quoted classic tale of fading glory and the twilight of one of Hollywood's golden ages. But as depressing as that sounds, it's a bit of a black comedy, famously starting with the discovery of aspiring screenwriter Joe Gillis' body floating in a pool, as Joe's voice (William Holden) begins to tell us the Story Of How He Died.  We then jump back six months to find Joe struggling and down to his last dime – an early visit to his agent yields nothing – and fleeing from some repo men after his car when he seeks refuge in the garage of what he thinks is an abandoned mansion on Sunset Boulevard.
But someone lives there after all – Norma Desmond (Gloria Swanson), a former silent film star turned eccentric recluse, with only her butler Max (Erich von Stroheim) for company.  Max and Norma think that Joe is someone else, and all but drag him inside – giving him a glimpse of the baroque decay in Desmond's mansion and a taste of Norma's eccentricity (they think he's a coroner there to deliver a coffin for Norma's dead pet chimpanzee).  Joe manages to set them straight, but is so desperate that they not turn him in that he praises Norma to the skies, and readily agrees when she asks him to read a script she's written.  It's terrible, of course, but Joe sees an opportunity and persuades Norma to hire him as a co-writer.
Joe soon learns Norma has an agenda of her own – instead of a straightforward business arrangement, Norma moves Joe into her mansion outright, in the room right next to hers, and "paying" him with expensive gifts instead of cash and placing ever more demands on his time, attention, and loyalty. By the time Norma stages a lavish New Year's Eve party (complete with a hired band) just for the two of them, Joe has figured out Norma's after a more prurient arrangement. But the only alternative is to go back to poverty, so a resigned Joe stays put.  Only a chance meeting with his best friend's fiancée Betty (Nancy Olson), a studio script reader who's had ideas about rewriting one of Joe's own scripts, spurs Joe to think of getting out – but Norma's growing madness, and his own shame over his plight, give him pause.
I really liked this when I saw it a few years back, and still do.  The plot could have made for an over-the-top mess, but Norma's delusions are actually handled pretty sensitively.  Gloria Swanson's Norma is still a mess – insisting that her fans are all just waiting for her comeback, and that the studios are just waiting with bated breath for her call.  Her mansion is a sort of shrine to her glory days.  But to spare her, the faithful Max does what he can to shield Norma from the truth (and has his own reasons for doing so), and in time so does Joe.  Nevertheless it's clear that it's only a matter of time before Norma disappears into her own memories entirely – and while this is horrific, it also comes across as quietly tragic.
Sunset Boulevard also flirts with verisimilitude pretty hard.  Norma's card-playing neighbors are all silent film stars, all playing themselves (including Buster Keaton, which was a nice surprise).  A later scene where Norma makes a surprise visit to the Paramount set to pitch her script sees her seeking out her old friend Cecil B. DeMille and barging onto the set of his latest picture.  Director Billy Wilder actually cast DeMille in the part, and used the set DeMille was actually using for his latest film (the only reason that DeMille's lead Hedy LaMarr didn't make her own cameo is because she asked for an exorbitant sum of money).  Even the silent films that Norma Desmond screens in her house are from Gloria Swanson's own filmography, with one in particular having been directed by Erich von Stroheim to boot.  It lends a richness and color to "the good old days" that makes it understandable why Norma would prefer to live out her days there – and makes it a little understandable why Joe might be willing to sacrifice so much to join her there.
Swanson, fortunately, seems to have been more like Margo Channing in her own life – a couple years after Sunset Boulevard she stepped quietly out of the Hollywood scene, returning to theater and making occasional guest spots on television shows.  She received several scripts immediately after the film, but turned them all down – her roles were always pale imitations of Norma Desmond, and she didn't want to ruin that performance with a bad copy.  Which seems somehow like a very un-Norma thing to do.