Whew, sorry for the delay – some non-movie life things intervened a bit.  But all is now well (considerably better than things have been for a while).  Ironically, this puts me in a better place than the characters in Los Olvidados (she said, desperately trying to bring things back on topic).
This was directed by Luis Buñuel, so I admit that I was pretty dubious when I saw a title card at the top of the film declaring that the characters were based on real people; Buñuel played fast and loose with the truth in Land Without Bread and that had me skeptical.  But something felt very different about this; Buñuel had been working in Mexico for a couple years, and had been profoundly affected by a newspaper story about a twelve-year-old boy's body that had been discovered in a garbage dump.  Many other Mexican films dealt with Mexico City's "street kids" in sanitized, heartwarming ways – poverty taught them lessons and strengthened their character, and they all had happy endings. The story of the boy in the dump underscored for Buñuel that this wasn't the case for the real street kids, and he set out to prove it.
And the kids in the film do have things pretty rough – and are pretty rough.  We largely follow the story of a small gang led by "El Jaibo" (Roberto Cobo), a teen newly escaped from reform school. He's determined to find the kid who ratted him out to police – purportedly Julian (Javier Amézcua), a former gang member now working with a local butcher. Jaibo pays a surprise visit to Julian, accompanied by Pedro (Alfonso Mejia), a younger boy who idolizes Jaibo and who lures Julian out from the butchers' to talk to Jaibo.  But Jaibo attacks Julian, walloping him with a rock.  He intends only to hurt Julian – but to his shock, realizes that he's killed Julian.  He swears the shocked Pedro to secrecy and runs off to hide.
Jaibo's act, and the other characters' circumstances, drive a lot of the story from there. Pedro is so thrown by the murder that it effectively scares him straight, and he seeks out a job with a local blacksmith.  His mother's so disappointed in his street-kid friends that she's all but thrown Pedro out of the house – but she then starts fooling around with the barely-legal Jaibo. There's a subplot with a lost boy from a nearby farm town, abandoned there by his father, who's befriended by Pedro and taken in by a blind street performer; they make regular visits to a grocers' with a teenage daughter, Meche (Alma Delia Fuentes), who gives the blind man some of the family's milk every day. But then the blind man starts molesting Meche one day and the country boy has to reconsider his loyalties.  He's already had to come to Meche's rescue when Jaibo tried having his own way with her.
In short, it's a pretty bleak tale. No one's hands are completely clean, but no one is entirely without their own misfortune either. And no one ends happily.  That was enough to earn Buñuel criticism for the piece, even when he was making it – crew members were asking Buñuel throughout why he was shooting in such ugly places (garbage heaps and abandoned lots), and one hairdresser even quit on the spot when she learned about the events in the scene they were shooting that day.  But Buñuel stuck to his guns, even in the face of the Mexican critics and audiences who felt personally attacked by the film (reportedly the wife of Spanish poet Leon Felipe had to be held back from attacking Buñuel after she saw it).
But Buñuel had some supporters, including the Mexican poet Octavio Paz – who happened to be in Mexico's diplomatic service at the time. Paz used his influence to get Los Olvidados a spot at the Cannes Film Festival, and then personally flew to Cannes to stand outside Los Olvidados' venue with a placard promoting it.  Los Olvidados took home an international critics' award and Buñuel was named "Best Director" at that year's festival.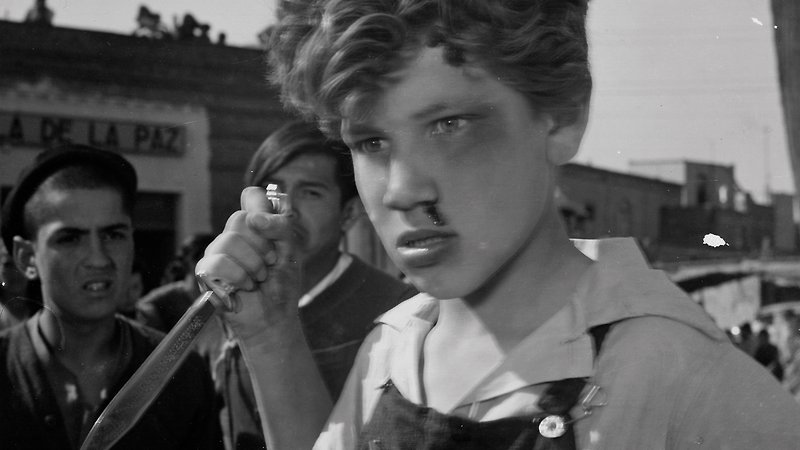 It really isn't a pretty story, and the print I was watching had some puzzlingly simplistic subtitles. But the tale itself gradually drew me in – as well as some feel to the piece that at the time I couldn't name.  It just plain didn't feel like Buñuel somehow (there is one dream sequence Pedro has that harks back to the Buñuel of L'Age D'Or, but even here it has a good deal of context from the growing story).  Ultimately, this seems to have been a passion project for Buñuel, and I think I was picking up on that.