I used to write for a now-defunct theater review blog. One show I covered was part of a new-musical festival; I began my review by saying that "There are musicals, and then there are musicals.  ….And then sometimes, there are MUSICALS!!!!"  On The Town, quite simply, is a MUSICAL!!!!  As the roommate put it, "Jazz hands…..So many jazz hands…."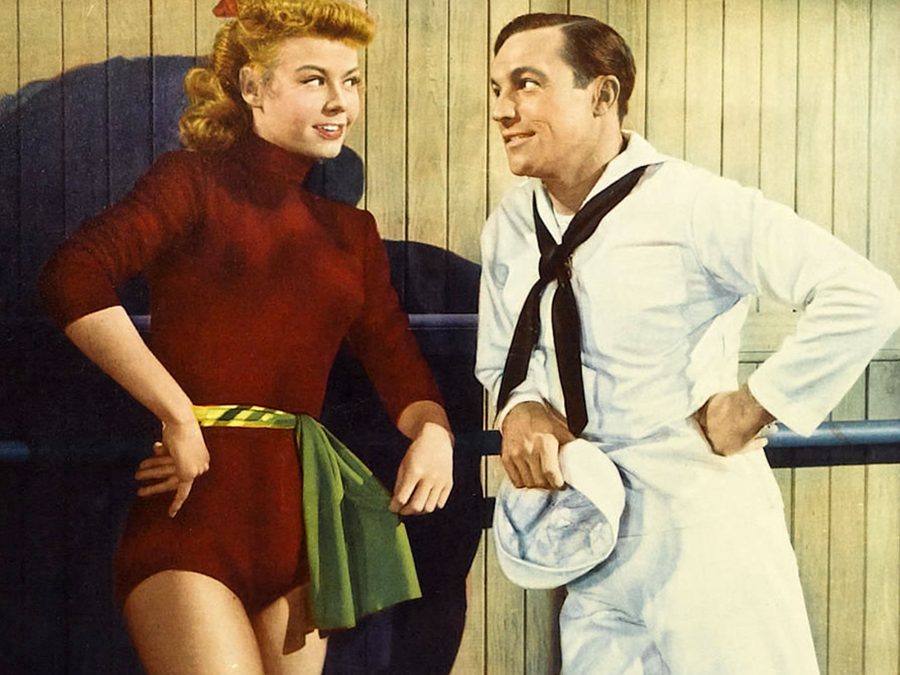 Like most such shows and films, this has a paper-thin plot – three sailors have 24 hours of shore leave in the city during Fleet Week.  They want to see all the sights – but more importantly, they want to pick up girls.  And most of the women they meet are more than happy to be wooed- starting with Clare (Ann Miller), an armchair anthropologist they meet at the Museum of Natural History who notes that sailor Ozzie (Jules Munshin) resembles her favorite caveman statue, and falls for him instantly. Cabbie Hildy (Betty Garrett) sets her sights on Chip (Frank Sinatra), declaring herself the group's personal cabbie just so she can try to lure him away from his sightseeing and upstairs to her place.  Sailor Gabey (Gene Kelly) is a little more fussy – sort of.  He spots a subway ad early on declaring that the MTA has declared a young miss named Ivy (Vera-Ellen) is that month's "Miss Turnstiles", and he is determined to find her, even if it takes him all day.
And…well, it's a musical. There are cute love songs, there are comic misunderstandings, there are kooky adventures, there is singing and dancing and hijinks and a wistfully happy ending when the three sailors bid adieu to their ladies and return to their ship.  The plot in such films takes a back seat to the production numbers.  At least the dancing is top-notch, with Gene Kelly taking on the bulk of the dancing (he also choreographed and directed the film).  This is the first time I've ever really paid attention to Kelly's work; I've heard others describe his style as "athletic," and there is something to that.  He's not as suavely elegant as Fred Astaire; he's more like a lively Golden Retriever in style. Different, but still fun to watch.  Similarly, we have Sinatra on hand for a couple of showier solo songs, which he delivers with aplomb.
Speaking of Sinatra – his involvement may have lead to some headaches for the producers.  The studio boasted that this was one of the first movie musicals to film on location in New York City; while really it looks like most of the scenes were on a stage set, the opening number sees our sailors cavorting around various local landmarks while singing ("New York, New York, it's a wonderful town…"), and these were indeed filmed close to me (in one case, very close to me – the sailors' ship is docked in Brooklyn's Navy Yard, and I live about five blocks away).  Apparently word got out that Sinatra would be filming in the city, and his fans turned up to gawk – in a scene when the three sailors are admiring the Prometheus statue in Rockefeller Center, you can see a huge crowd lined up just behind it, admiring him.
Some of the bits have not aged all that well.  Ann Miller's number, "Prehistoric Man," is an ode to dating old-fashioned men – really old-fashioned ones, that is; she is looking for a big burly caveman type. And since the cast is ostensibly in the Museum of Natural History, there is much cavorting around with "primitive" artifacts – elaborate headdresses, ceremonial drums, spears, and the like.  There's also a subplot with Hildy offering her nerdy roommate Lucy (Alice Pearce) as Plan-B option for Gabey when Ivy has to drop out, and she's clearly meant to be the awkward comic relief.
And yet…somewhere towards the end there are also some small lovely moments. In one scene, when the sailors are trying to grab a table at a swanky club, using Ivy's status as "Miss Turnstiles" as currency, Clare quietly steps aside and corners the manager, bribing him to get them a table and to make a fuss over Ivy.  And as for Gabey and Lucy – even though she knows she's his Plan B, when Gabey sees her home, he gives her a sincere apology for not being very good company and wishes her well.  It was a surprisingly sweet twist.  I was also expecting there to be some kind of lengthier farewell between the sailors and the ladies; fervent promises to stay in touch, a sudden proposal, something like that.  But no – the ladies just follow the sailors back to the ship and stand ashore waving goodbye, as the next round of sailors up for shore leave start flooding ashore and singing "New York, New York" again.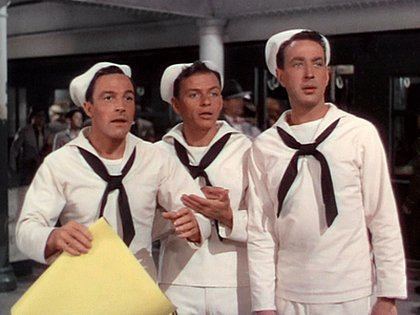 So despite myself, I ended up pondering my own Fleet Week memories (you can't help but have a couple after living here as long as I have).  The exuberance of the opening number reminded me of a moment waiting to cross a street, with a knot of sailors beside me. And suddenly, one of them started completely freaking out and exclaiming to his companions: "Guys!  Guys!  It just hit me!  We're in New York!  I'm in New York, and you're in New York, and we are in New York!!!"  The light changed then and I crossed the street, but his enthusiasm was touching and stayed with me.
Later that same week, another group of sailors stopped me to ask directions to McSorley's Ale House; at that time, it was en route for my commute home, so I suggested they simply follow me. I spent a lively ten minutes playing tour guide on the subway and then on the sidewalk, playfully bantering with six guys in dress whites – and then when we got to McSorley's, they invited me to join them.  And of course I accepted.  One of the sailors ended up getting especially taken with me – he insisted on walking me the rest of the way home later, with another buddy as chaperone "so you know I won't try anything", and then gave me his email address, telling me I was "a fun gal" and asking me to stay in touch.  ….I considered it, but ultimately didn't, and every now and then I regret that.