Back when I saw Top Hat, my immediate reaction was "oh, now I get why everyone talks about Fred Astaire and Ginger Rogers."  Similarly: on the evening of October 16th, 2019, I finally learned why people talk about Spencer Tracy and Katherine Hepburn so glowingly.
Adam's Rib doesn't have the weightiest plot, to be honest; in its original review, the New York Times quipped that while it wasn't "solid food", the film was "meaty, juicy and comically nourishing", and I'm inclined to agree.  Hepburn and Tracy star as Adam and Amanda Bonner, a pair of married New York lawyers with the city's D.A. office.  They're clearly fond of each other, and enjoy a comfortable life – lavish penthouse in the city, a second home in a cozy little Connecticut farmhouse – but keep things lively with spirited debates about legal and moral issues of the day.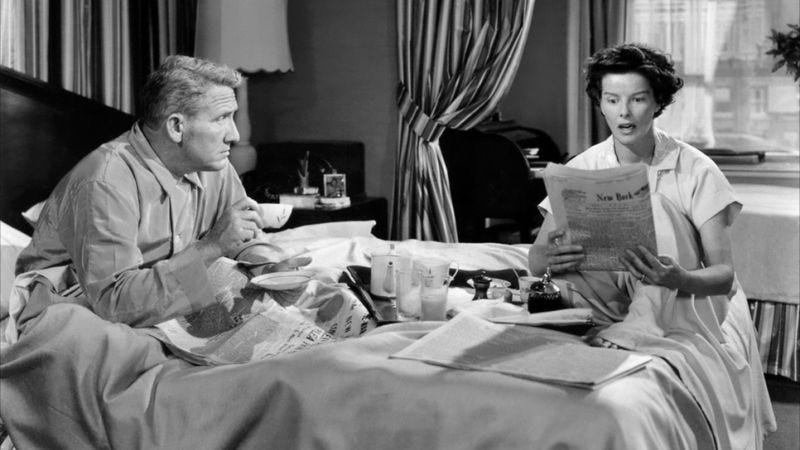 Like this news story that's just made the papers one morning – a jilted woman, Doris Attinger (Judy Holliday) was just arrested for trailing her cheating husband to his girlfriend's and firing a pistol.  We actually see the incident first thing – Doris is completely inept with a gun (she even has to consult a booklet first to see how to fire it), and it's unclear whether she was aiming at anyone.  Regardless of her intent, she wounded her husband and is now charged with assault.  Adam and Amanda debate the story over breakfast – he feels it's a clear-cut case from a legal standpoint.  But Amanda argues that if the genders were swapped, Doris would have been treated differently, and possibly not even charged. Still, it's just an intellectual exercise for them both, just something to talk about as they head to work.
But then Adam is assigned the role of prosecuting attorney in Doris' trial. And when he tells Amanda, she marches straight to the Legal Aid society and offers her service as Doris' defense attorney.  And the battle commences!
Now – anyone planning to watch this as a straight-up courtroom story may be in for some disappointment.  I'm no expert – my "legal education" consists of Law and Order reruns and one copywriting temp gig at Columbia Law School's Alumni Magazine – but Amanda's legal argument feels a little…far-fetched.  She could have easily made a case out of Doris' maltreatment by her husband, and from her claim that she only meant to scare her husband. There's enough cause for reasonable doubt there.  But Amanda chooses to turn the whole thing into a springboard for a larger debate on women's overall equality, going so far as to bring in a small group of other women – wholly unrelated to the case – to testify about their own gender-based struggles and limitations in their chosen professions.  It was an interesting scene to watch today – even though it ultimately is played for laughs – but I couldn't shake the feeling that as a legal argument, it didn't seem like it'd hold water.
Then again, watching this as a straight-up courtroom story is a mistake anyway.  You're watching this to watch Hepburn and Tracy, period.  We see their courtroom debates, sure – but we also watch how the ongoing trial affects their home life. And for a while, it seems like the couple find each day's debates a little…stimulating.  Tracy and Hepburn have a chemistry and an ease with each other that is delicious – flirtatious, comfortable, playful, even a little erotic (we don't see anything sexual, but we do hear an offscreen smack of a kiss – and we hear an onscreen smack when Adam spanks Amanda during a massage).
The homefront playfulness fades as the stakes rise in the court, of course, and both get a little mean with each other – but you can tell this is a couple that has a history of deep love and respect, and will eventually put things right. The film even flirts with a plot twist that implies that the pair will break up, but I didn't buy it in the slightest – and not just because "this is a romantic comedy and of course they won't break up".  I didn't buy it because from what I'd seen onscreen, I knew Adam and Amanda weren't going to break up. They were too in love and had been for too long.  And that is entirely thanks to the performances from Tracy and Hepburn, and the chemistry they share.
Amazingly, the performances weren't nominated for any awards, it seems; the film's only Oscar nomination came for the script – a collaboration between writer Garson Kanin and his wife Ruth Gordon, herself an actress with several Broadway credits in her past and some acting Oscars in her own future (but we'll get there eventually).