Well, I didn't hate this one.
Gene Tierney stars as Lucy Muir, a young widow with a daughter who moves to a small seaside town outside London in the early 1900s. She's drawn to a small cottage outside town, and the price is a steal, so she immediately moves in, scoffing at her neighbors' warnings that it's haunted. But she very quickly discovers her neighbors were right – the ghost of the former owner, a sea captain named Daniel Gregg (Rex Harrison), turns up to speak to her on her first night there. Other former tenants had been easily scared off by little poltergeist-y things he'd done, but Lucy…Lucy seemed stubborn, so he appeared to make a personal appeal to ask her to leave.  But Lucy was stubborn, and refused.  The pair strike a truce – Lucy and her family can stay, and Gregg will leave Lucy's daughter and maid alone, if Lucy takes Gregg's old bedroom as her own and leaves it exactly the way he had it.  And – if Gregg can hang out with her sometimes.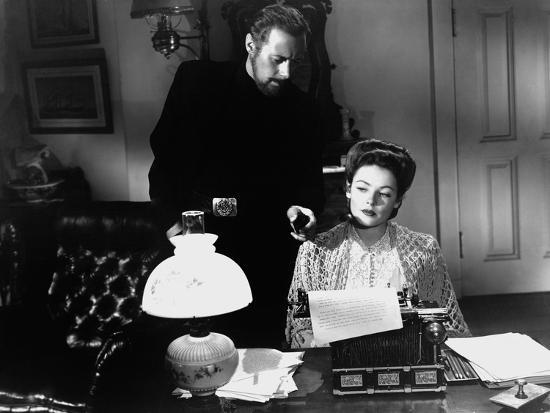 Soon Lucy and Gregg are good friends – so much so that when Lucy loses her savings and is facing eviction, Gregg has an idea; he'll dictate his memoirs to her, and she can publish them as a work of fiction.  The pair work for several weeks on this novel, starting to fall in love as they do.  But Greggs'…er, lack of corporeality is a problem.  When Lucy goes to London to meet with a publisher, she meets another writer, Miles Fairley (George Sanders) who takes an instant shine to her. He's a bit pompous, though, so Lucy brushes him off – but then realizes that even though Fairley is a bit of a jerk, he is also actually alive….so now what?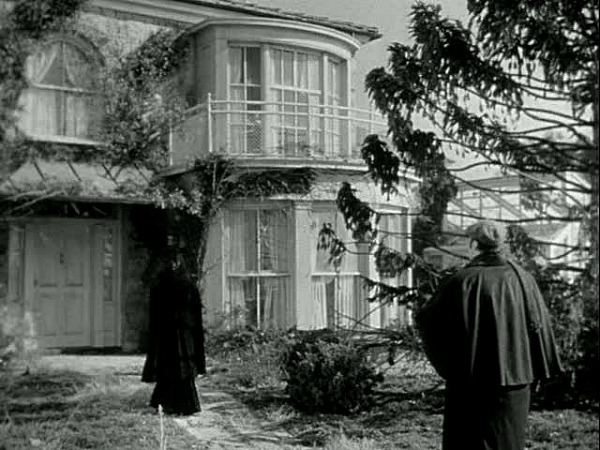 It is a little on the corny and sentimental side.  Parts of this reminded me of a film not on the list, Truly Madly Deeply, in which the ghost of a grieving widow's husband returns – but he's on a mission to annoy her, so that she'll get over him quicker and move on.  There's a point I thought The Ghost and Mrs. Muir was going to do the same thing, but some twists towards the end – and some time jumps – surprised me.  
The two leads have a bit more nuance than I initially expected as well. Gene Tierney's Lucy is initially brimful of a kind of pluck that seems expressly tailored for romantic comedies – she's spunky and independent in ways that seem almost tailor-made to draw male admiration.  And Hamilton's Captain Gregg is almost straight out of a sea shanty at first. But soon we learn that Gregg is as likely to pepper his speech with quotes from Keats poems as he is to use seagoing slang, and as for Lucy…well, I can't spoil it, but she ultimately surprised me too.
While looking into the history of this film, I discovered that it also served as the inspiration for a TV sitcom in the 1970s, with the setting moved from England to Maine and the love story abandoned in favor of what sounds like a wacky odd-couple roommates kind of situation.  To be honest, the sitcom sounds perfectly terrible.