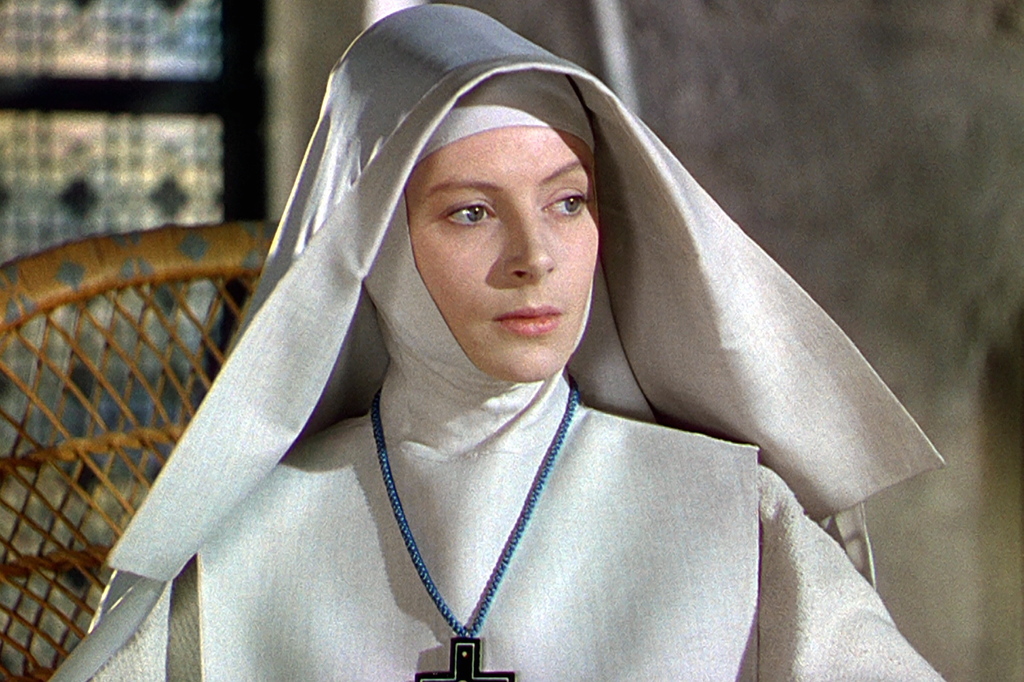 I'm still making up my mind about this one.
Black Narcissus is by the same team that brought us Colonel Blimp and A Matter of Life and Death, and is based on a Rumer Godden novel about a small group of nuns sent to try founding a convent in a remote Himalayan village.  I'll admit that I had some expectations going in; a patronizing view of the local villagers coupled with a fetishization of how exotic they are, a lot of culture clashes, a nun having her black-and-white view of morality questioned.  And lots of Caucasian actors in heavy makeup in some of the "Indian" speaking roles.  I did indeed see some of that….but there's a bit more.
Most of the patronizing attitude comes from a local, in fact; the English agent in charge, Mr. Dean (David Farrar), who's been living in the village for a while and is the welcome-wagon for our convent, helping them settle into the building perched high up a mountain.  Sister Clodagh (Deborah Kerr), the newly-minted Mother Superior for this convent, isn't impressed with him; he's scruffy and rude, and likes taking pot-shots at religion and teasing her that they won't last a year.  He also has a distressing habit of showing up without a shirt on.  But Mr. Dean is low on a long list of problems for Sister Clodagh and the other four nuns; fixing up their digs, a former seraglio perched high atop a mountain, comes first, and Sister Clodagh quickly makes peace with Mr. Dean so he can help them install actual plumbing, pack away some of the more scandalous statues and paintings scattered about, help Sister Philippa (Flora Robson) start a vegetable garden and spread the word of the convent's medical clinic and girls' school.  She also needs to keep a close eye on Sister Ruth (Kathleen Byron), a younger nun whose devotion to duty has been wavering in recent months and who seems strangely taken with Mr. Dean. And she has to make nice with "The Young General" (Sabu), the grown son of the local Indian prince who insists on admission to the school.
And for a while, everything seems to be going okay. The school sees a regular knot of children trooping up the mountain for daily lessons, with another knot of unmarried women joining them for lessons in things like lace making.  The medical clinic deals with the routine set of tummy bugs and cuts and scrapes that they can.  Mr. Dean can be a pain, but otherwise people treat the nuns fairly.  But still in time something seems to make the sisters all start going a little…funny.  Sister Clodagh keeps having intrusive daydreams about the life she left behind to join the religious life. Sister Phillipa dramatically changes the plans for the vegetable garden and turns most of it into a field of flowers.  And Sister Ruth's interest in Mr. Dean starts looking more and more like obsession – and causes Sister Clodagh to re-examine what she thinks of Mr. Dean herself.
There's a bit of mystic-woo implication that the environment itself is what's ruffling the sisters' composures. The convent is high enough up a mountain that a brisk wind blows constantly, whistling through the shutters and howling outside the doors, whipping every nun's wimple around her dramatically whenever she's outside.  But at the same time, the grounds surrounding the convent and the valley below are lush and fertile and full of color; azaleas and magnolias abound (and may have been the inspiration for Sister Phillipa's chucking the potatoes for dahlias and tulips).  I didn't quite buy that, but certainly appreciated how that influenced the film's look – there are a lot of shots that play with contrasting the sisters' drab white habits against the bright saris on their students, or the lush greens of the surrounding jungle.  Even Mr. Dean looks vibrant next to them, and he's all in earth tones; but they're deep tan and burnished brown next to the sisters' chaste whites and creams.
But color isn't always a seduction; Sister Ruth ends up flirting with red a lot, like when she secretly gets hold of a dress and some lipstick to sneak out of the convent and try to seduce Mr. Dean.  But red on Ruth is a warning as well as a seduction; in the scene where she's putting on the lipstick, the camera pans from the firey crimson lipstick sliding over her lips, up to her eyes, which are red-rimmed and have a very, very dangerous gleam.  In a later scene, Ruth's reds have darkened to an even more dangerous-looking black.
There are a few instances where the film flashes back to Sister Clodagh's past, showing the daydreams about her pre-convent life.  I ultimately felt like they bogged things down, particularly since the handful of scenes chart the course of a story which Clodagh tells Mr. Dean towards the end.  Actually seeing bits of her story didn't really add all that much, especially since it felt like a subplot concerning the Young General and a village girl got short shrift.  But overall – I felt a little unprepared for this film, in ways I'm still thinking about.