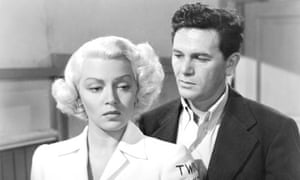 Well, I did say back in my review for Ossessione that I wanted to see more legalese and police procedural.
This is the first Hollywood adaptation of author James Cain's 1943 book, and offered an interesting chance to compare Hollywood's take to the Italian take on the same story.  Here, we have Lana Turner and John Garfield as the stars, Frank and Cora, who meet when Frank turns up at the diner and gas station Cora owns with her husband Nick (Cecil Kellaway).  The chemistry is nearly instantaneous, and Frank and Cora soon begin an affair.  However, unlike in Ossessione, Frank and Cora do some preliminary plotting and planning before they kill Nick – a plot point which also allows for the introduction of Hume Cronyn as Arthur Keats, a sly lawyer who plays some fourth-dimensional chess to both get Frank and Cora out of jail and simultaneously keep them under his thumb.
Cora and Frank are also a little more polished than Giovanna and Gino were; the first time we see Giovanna in Ossessione, she's toiling in the kitchen, sweaty and covered in flour and grumpy.  Our first sight of Cora, meanwhile, is as a vision in a white who drops her lipstick as she's in the midst of touching up her makeup.  She's also instantly eager to build the "Twin Oaks" diner she runs with Nick into a high-class establishment, unlike how Giovanna is desperate to escape her life of kitchen drudgery.
As for Frank – he seems a lot less guilt-ridden than Gino did over his part in their shared crime. Not that this makes him any less eager to get away from Cora, mind you; but here, it seems more like a case of Frank just being a dude who doesn't like being tied down.  "I got an itch on the bottom of my feet," he keeps saying.  "I've never liked any job I've ever had. Maybe the next one is the one I've always been lookin' for."  It makes him all the more prone to Keats' manipulation – the first chance that Frank sees to waive any responsibility for Nick's death, he takes it, even if that chance comes at Cora's expense.  Which makes their post-trial tension all the stronger, and Frank all the more eager to skip town – and makes them both all the more prey to manipulation at Keats' hands.
I'm going to be pondering the differences, and where they may come from, a lot. This film puts a lot more polish on our leads, but it also makes their motivations a little more clear. On the other hand, Ossessione is more honest about what Giovanna/Cora's life looks like; there is no way the working wife of a dinette owner would be this pretty and this polished all the time.  Postman also gives Frank a last-minute moment of remorse that Ossessione omits, and I find myself chalking that up to "Hollywood" convention.  Then again, Ossessione's realism got it into trouble with the Italian censors, and it was buried for years; Postman may simply have been pulling its punches in response.
Interestingly, the DVD copy I had also had the trailer for an even later remake that looked like it could be a sort of synthesis of both these films; a 1981 adaptation I'd never heard of, starring Jack Nicholson and Jessica Lange.  That remake is not on the 1001 Movies list, and was largely panned by critics – at least at the time.  More contemporary critics seem to shrug and accept it.