So, a confession: I usually watch these films in the evenings after work, and once in a blue moon I doze off for a bit in the middle; never because of the movie, more because of my middle-aged energy level.  If that happens, I go back to the last scene I remember and try again.  Sometimes I discover that I only missed a moment I needn't have worried about, like the main character walking to the drug store and saying "hi" to someone; other times I realize I missed a couple of important plot points.
I say this because The Seventh Victim was one such instance of my waking up and needing to rewind back. This time, though, even though I'd missed a good deal, watching it again still didn't explain much.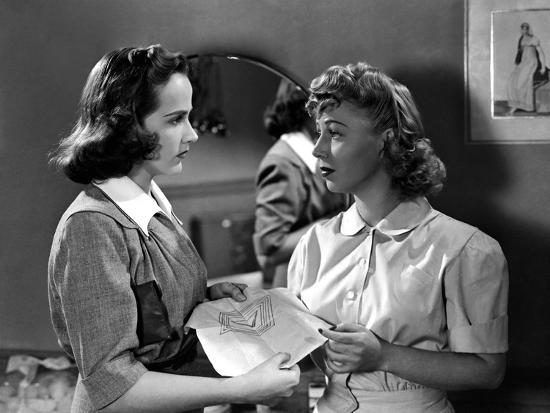 This was bonkers, y'all.  It started out as a simple mystery story; Mary (Kim Hunter), a student at a prestigious boarding school, learns at the start of the movie that her tuition hasn't been paid in months and her sister Jacqueline, her only family, is missing. She drops out of school to find Jacqueline, stopping first at the high-end cosmetic company she'd founded.  But Jacqueline's business partner tells her Jacqueline had sold her shares of the business off a few months earlier.  Another friend swears to having seen Jacqueline at an Italian restaurant in Greenwich Village a week prior, still another person suggests she check out the morgue…
….And that's where things start going weird, as Mary's further investigations turn up Jacqueline's secret husband, a rented room with nothing in it but a noose, a reclusive neighbor with tuberculosis, a mysterious psychiatrist, and a secret society that may be a Satanic cult.  Jacqueline makes a couple of tantalizing appearances, there's a dude with a switchblade stalking people and a one-armed pianist hanging about, a poet spontaneously decides to join Mary in her search, the cult tries to compel someone to drink poison, and at one point there's a scene where Mary is happily teaching a group of kindergarteners to sing a nursery rhyme about cutting off people's heads.  That's a lot to take in.
Several critics call out The Seventh Victim for being somewhat opaque and hard to follow.  There were four scenes cut that would have helped the plot hang together a little better; one of them also delves into the origins of the cult a little bit. The film does keep in one scene where the poet and the psychiatrist have a mild confrontation with the cult members that end with each reciting parts of The Lord's Prayer at them before primly walking out; but other than that, we never really learn much about the cult – what they believe, why they believe it, how they operate, how long they've been around, much of anything.  The biggest detail we learn about them is that they all eschew non-violence, and that they identify with an arcane symbol Jacqueline incorporated into her logo for her cosmetics company.
It wasn't the plot that made my head swim anyway, to be honest.  There's this strangely passionless and formal tone to the film – Mary's usual response to the film's various alarming revelations is little more than wide-eyed befuddlement.  I mean, I'd be confused by the events of the film as well – but if I discovered that my sister had secretly married someone, my response would be somewhat stronger than "goodness, that's surprising", and a poet trying to interfere with everything would prompt something stronger from me than Mary's placid acceptance.  In that confrontation the poet and psychiatrist have with the cult, no one's voice rises above the level of "pleasant conversation", even though they're flinging accusations of being Evil People In League With Satan.
There's also a sort of fatalism throughout; it's hinted that Jacqueline has suicidal tendencies, and we're supposed to think it's because of her involvement with the cult – but it's unclear that she didn't already tend to view the world through a dark lens.  The film opens with a title card bearing a meditation on death from John Donne ("I run to death, and death meets me as fast / and all my pleasures are like yesterday") which Mary's voice recites again at the end of the film, as the tubercular neighbor, who's just told someone that if she's about to die she's going to go out for one last party, is gliding out a door in an evening gown.  A lot of the poet's attitude towards life is "eat drink and be merry for tomorrow we die", and even the couple who owns the Italian restaurant tries to cheer Mary up by adjuring her that "life is too short".  Mortality comes up a heck of a lot in this film, as does a sense of pessimism and "what's the point" about life itself.  Despite the chaos of the plot, though, Mary seems to be determined to move forward in a positive direction (through a somewhat far-fetched development, and that's all I'll say about that) while Jacqueline…doesn't.  Maybe that's what the film was ultimately getting at.  But I'll be darned if I can say for sure.