If you look back through my review for films with Jimmy Cagney, you'll notice an interesting progression. I started with a low opinion of him, based on some clips I'd seen years ago and found unimpressive. But over the course of a handful of films, I discovered his acting chops…and then his dance prowess…and then with Yankee Doodle Dandy, we finally come to the film that soured me on him all those years ago. And it's time for me to admit that I owe Jimmy Cagney an apology.
In my defense, the film doesn't do him any tremendous favors – at least from the perspective of today. It's a fairly standard show-biz biopic, telling the story of theater showman George M. Cohan – the vaudevillian-turned-Tin-Pan-Alley-composer who wrote the spirited patriotic standards "Yankee Doodle Dandy" and "You're A Grand Old Flag" and "Over There", plus "Give My Regards To Broadway" and countless other show tunes from Broadway's early years. FDR awarded him the Congressional Gold Medal in 1942, an event that serves as the framing device for the film; at the top of the film, Cohan has just come out of retirement to play FDR in a new Broadway comedy, and after his curtain call he receives a telegram inviting him to the White House.
He heads to Washington right away, is quickly shown into the Oval Office, and within a few brief minutes has started reminiscing about his life story, triggering a two-hour retrospective flashback covering Cohan's birth, childhood in a vaudevillian family, initial early struggles, breakout success, ascendancy to fame, retirement, and a brief period of dotage before his return to the stage. There are scores of musical numbers, scenes from his family's act and his own musicals. There are scenes of him at a piano, frowning in concentration for a moment or two before finally getting an idea and hastily tapping out the tune to something the world now knows by heart. There are scenes when he is down on his luck but vows to just hang in there. There are dancing girls and waving flags and World War I doughboys marching off to war whistling his songs.
There is, in short, nothing in the plot that you haven't already seen in plenty of other biopics about famous showmen. The film is more like a greatest-hits album than anything with a narrative; any "problems" are neatly resolved within minutes, and any "struggle" is also similarly dispatched with ease so that we can move on to the next Big Hit From The Songbook.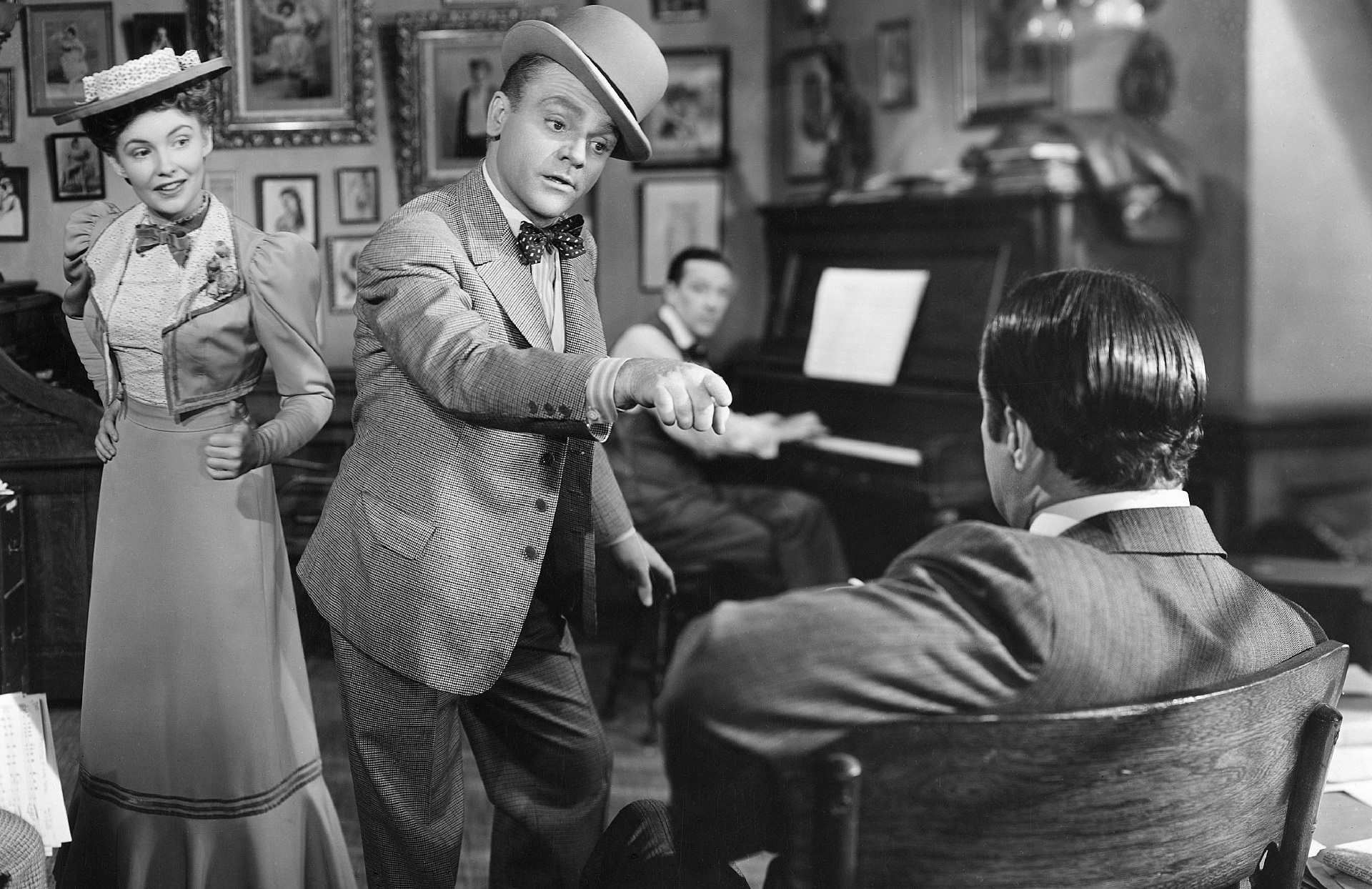 It's not anything I'd watch if it were a modern tale about a fictional person. It's doubtless I'd watch a modern remake like this even if it was about Cohan. But at the same time, I can't ignore that this came out a few months after Pearl Harbor, at a time when the United States was no doubt desperate for some heartwarming, sentimental rah-rah patriotism and good vibes, and so even while I want to cringe at moments like the staged recreations of that famous Spirit of '76 painting or other similar numbers, I also am reminding myself that this was absolutely and exactly what audiences at the time were desperate for.
And – I have to say that Jimmy Cagney is one of the reasons why I'm able to forgive it. Ironically, Cagney was not Cohan's first choice for the part – Cohan was hoping to get Fred Astaire, whom he greatly admired. Cagney wasn't all that fond of Cohan either – Cohan was a little too much of a red-blooded Conservative for the progressive Cagney. However, fate took a hand in things – first Fred Astaire turned down the part, since he felt Cagney's dancing style was too stiff and clunky for him to recreate in a film. And as for Cagney, he was starting to get some unwelcome attention from the government due to suspicion he was a Communist. So when Cohan and company next offered Cagney the part, Cagney jumped at the chance to deflect rumors of un-American activity by playing an uber-patriot – not just playing him, actually, but becoming him.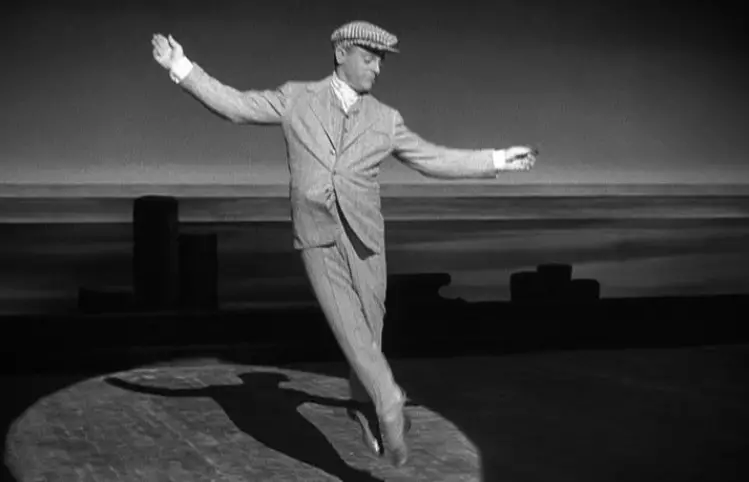 Ironically, Cagney was so good at becoming George Cohan that that's what lead to my initial distaste. The clips I'd seen before now all featured Cagney "singing" all the songs in this sort of spoken-word sungspiel, the kind that I've always associated with "this actor can't sing but we had to cast him anyway and so we're putting up with it". To my great surprise, I learned that this was how Cohan actually sang in his own shows; Cagney could sing all along, he was just taking on Cohan's style. He took on Cohan's dancing style as well – a sort of wind-up toy stiff-legged thing, all stiff back and jerky kicks, but fast, blindingly fast and energetic. It is indeed way off what the smooth and suave Astaire would have done – but Cagney throws himself into it, with all the gumption he has to spare (he was reportedly so enthusiastic he sprained his ankle twice during filming). Whatever reservation Cagney may have initially had about the part, he left it behind.
Cohan was won over by his performance, heaping praise on the movie and calling Cagney "a tough act to follow" at the premiere. Critics were also effusive in their praise, including awarding Cagney a Best Actor Oscar that year. And…I have to admit, Cagney has also at long last won me over. I'm still not wildly impressed by the film, but watching the film that put me off Jimmy Cagney has finally won me over to him again at last.