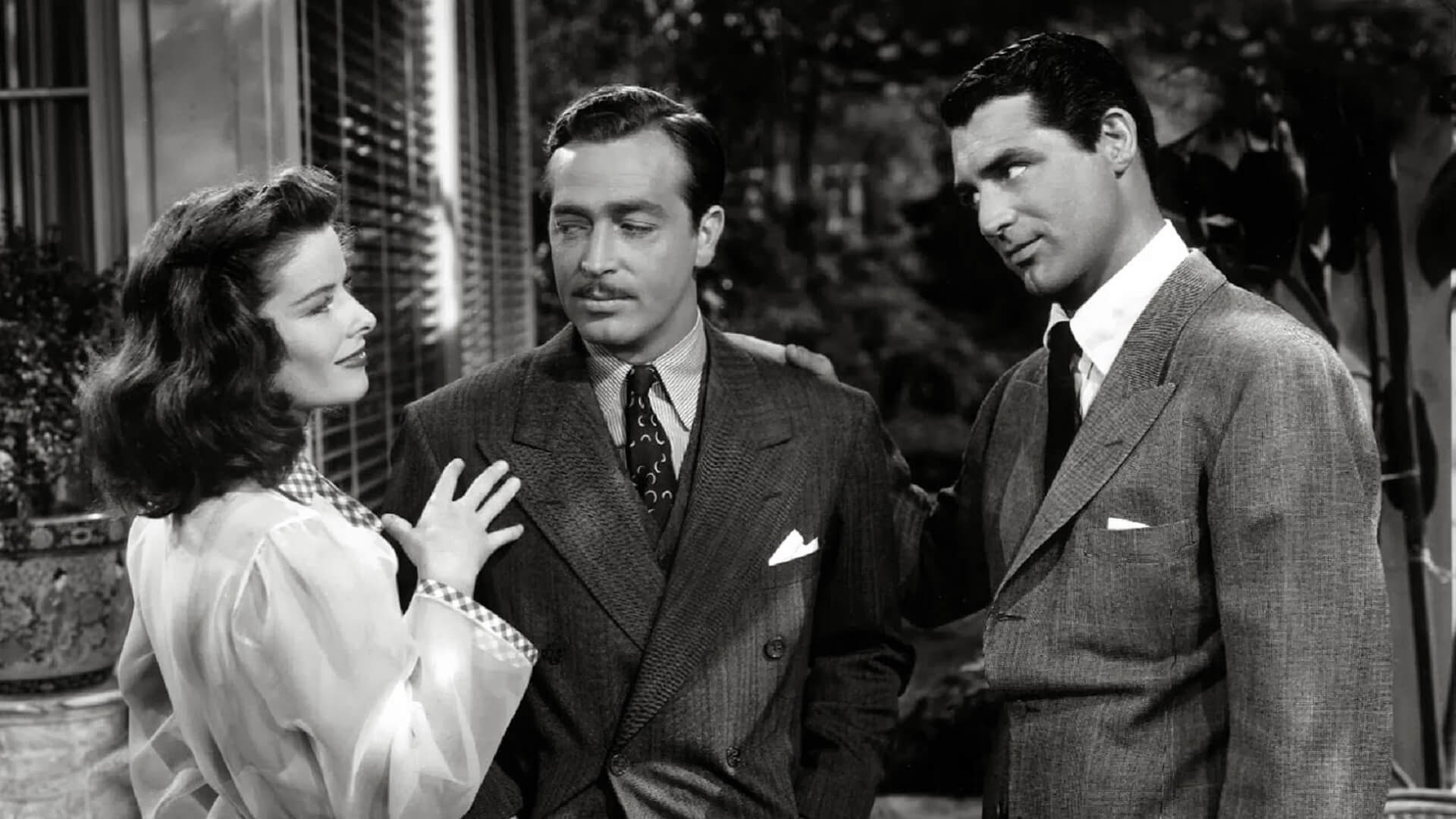 The Philadelphia Story is a bit of a Bringing Up Baby reunion, with Cary Grant and Katharine Hepburn returning under the direction of George Cukor.  But I liked it much, much better.
Part of why is that Hepburn is playing someone much more likeable this time. Instead of a dizzy free spirit, she's a feisty, strong-willed socialite, Tracy Lord, whom we meet in the middle of breaking up with her husband C. K. Dexter Haven (Cary Grant) in the very first scene.  It's a wholly wordless scene, but it's absolutely clear what's going on – she throws his suitcases through the door at his car, pausing only to break one of his golf clubs in half.  And the feeling is mutual – as Haven demonstrates by pushing her backwards through the door to land on her tuchus.
The film then fast-forwards two years, to the weekend of Tracy's second marriage to a nouveau riche industrialist.  It's the society wedding of the year in Philadelphia, and the editor of the gossip magazine Spy wants a scoop – so he enlists cynical writer Mike Connor (Jimmy Stewart) and his photographer sidekick Elizabeth Imbrie (Ruth Hussey) to get in on the festivities and do a piece on How The Rich Set Weds.  But how will they get in?  Why, there's a fellow here who just moved back from our South American office who says he can introduce you, with a story about your being friends of Tracy's diplomat brother.  Says his name is "C.K. Dexter Haven" and he knows the Lords well.
Tracy isn't too pleased to see Haven (although her mother and kid sister are), and easily sizes up Connor and Imbrie.  But before she can kick them out, Haven privately reveals another bit of info – Spy is sitting on a much more scandalous story about Tracy's father having an affair with a dancer, and letting them do a piece about her wedding will convince the editor to kill the gossip piece.  Tracy knows about the dancer – and in fact has disinvited her father to the wedding because of it – but agrees that the scandal would damage the family, and agrees to play along.
….that's all just the setup.  The rest of the action unfolds over the two-day wedding weekend, which sees Tracy and Haven reminisce over their old affair, Tracy and Connor gradually realize they have chemistry, and Tracy's fiancé George get increasingly confused about what all these dudes are doing hanging around.  Tracy's father even shows up (secretly invited by her mother).  The evening before the wedding, Tracy has become thoroughly mixed up – she's uneasy about how her fiancé idolizes her, she's attracted to Connor, and she's having epiphanies about her and Haven.  And then she and her father get into a serious argument which drives her to self-medicate with about a bottle and a half of champagne before turning up to a wedding-eve ball thrown by her uncle, where she meets an equally-drunk Connor….
I truly did not know until just before the close who Tracy was going to end up with. With three men hanging about this is more of a love rhombus than a triangle; and each of Tracy's relationships with these men is wholly distinct, and either one is a choice that would make sense.  I was impressed how well-rounded the characters themselves were, which no doubt helped – Haven does fall back on being depicted as the "bitter snarky ex" a shade too often, but there's also a sense that he genuinely realized where he messed up in their marriage and that he wants to do right by her, even if it's to protect her second marriage.  Connor is a salt-of-the-earth frustrated writer unimpressed by the Lords' wealth – but that also makes him one of the few who sees past the façade Tracy's put up to the world and relates to that.  George Kitteridge (John Howard), Tracy's fiancé, may idolize her – but mercy he is devoted, and would make a faithful and devoted husband as well.  All three of them get under Tracy's skin for very distinct reasons, forcing her to do some hard thinking – not just about her paramours, but about herself – for possibly the first time ever.
This all sounds really deep.  But this film also pulls off being really funny.  Not the slapstick kind of screwball comedy either – the film goes for witty one-liners and small bits of business instead, with Connor getting most of the jokes, some pointed classist mockery of the Lords and some fish-out-of-water fumbles while he's "under cover".  Hepburn gets some witty barbs in as well, fighting back against Connor's attacks – making it all the more gripping when the two get into a more serious argument about his classist snobbery.
Tracy's sister Dinah is another scene-stealer.  Dinah is played by twelve-year-old child actress Virginia Weidler, who was a revelation – she's got incredible comic timing and instincts, easily swinging between wisecracks and youthfulness as the tomboyish Dinah.  There's a fantastic scene early on, when the Lords first meet Connor and Imbrie, and have decided to put on an elaborate act to confuse them; Weidler more than holds her own in a scene with Hepburn, Grant, and Stewart all.  I was impressed enough to track down Weidler's biography; this was one of her last roles in a career that began when she was only seven.  She and Shirley Temple entered show business at about the same time and at similar ages; but Weidler was quick-witted and funny rather than being cute, and an actress alone rather than also being able to dance, so she lost out several roles to Shirley Temple – especially in her teens – and eventually retired from show business altogether at the age of 16 and married a naval officer.  It's a pity the studios didn't recognize her obvious talent.
On a happier note – The Philadelphia Story revived the career of Katharine Hepburn, who'd done a lot behind the scenes to get the film made. The film was based on a play, one which Hepburn had commissioned herself a couple years after Bringing up Baby when her movie career was in a bit of a slump.  The play was a rousing success, and Hepburn's then-boyfriend Howard Hughes bought her the film rights.  She sold them to MGM on the condition that she have a say in the casting and crew selection.  Initially she'd tried to get Clark Gable cast as Haven and Spencer Tracy as Connor, but neither was free; Grant and Stewart were second-string choices.  But the atmosphere on set quickly confirmed that they'd made the right choices; in a later interview, one of the cameramen, Joseph Ruttenberg, spoke of how much fun all parties seemed to have during filming, especially during that first opening scene:
"Cary got along very well with Kate Hepburn. She enjoyed him pushing her through a doorway in one scene (so she fell over backward) so much that she had him do it to her over and over again. …There was also a scene in which she had to throw Cary out the door of a house, bag and baggage, and she did it so vigorously he fell over and was bruised. As he stood up, looking rueful, Kate said, 'That'll serve you right, Cary, for trying to be your own stuntman!'"