I think I have a small celebrity crush on Jean Gabin.
….Hang on, I'm getting ahead of myself a little.
Gabin stars in Daybreak, a sort of doomed-love story/mystery cross-pollination, which starts with Gabin's character Francois shooting someone in his apartment and then barricading himself against police during the first ten minutes.  The backstory for his act – and the rest of the film, for that matter – is told in a handful of extended flashbacks, chronicling his love affair with a young woman, Francoise, and both of their complicated entanglements with the oily Valentin (Francoise's ex) and forthright Clara (Valentin's ex, Francois' sometime rebound).  And when I say "complications", I mean it – Francois takes a while to unpick exactly what is the nature of Francoise's relationship with Valentin, largely because Valentin lies to him the few times Francois confronts him.  ….And maybe Francoise is lying to him a little as well.  But Valentin may also be lying to her.  At least that's what Clara says – but is the bitter Clara, frustrated at Valentin's rejection of her, really a reliable source?
That all could have been a confusing mess, but the script ably leads you through the ensuing twists and turns well, pacing the various double-crosses and revelations well enough for you to follow the thorny story to that final fatal act, an act which by that point makes total sense for the exasperated Francois – as does his way out of his predicament, which we finally see at the film's very end.
There's a lot in the film that caught my eye – some of the present-day shots with Francois brooding alone in his apartment are gorgeously composed.  But the scenes where Francois is trying to pitch some woo with Francoise – an early scene at her apartment, a later one in a barn – that really grabbed my attention, for a couple reasons.  The Francois/e initial meet-cute felt a bit forced, but their next scene is marvelously compelling – playful, flirtatious, and a tiny bit seductive.  Honestly, if someone looking like Gabin turned up in my apartment and talked that way to me, I'd have a hard time resisting myself.
Hence the celebrity crush.  We've seen Gabin before in Pépé le Moko and The Grand Illusion, but this was the first time we got to see more of a romantic-lead kind of part – albeit a tragic one – and boy, it got me, moving Gabin onto a shortlist that is populated with more contemporary performers (no, I am not going to tell you who they all are just now).
Alas, it seems that this may be the last I see of Jean Gabin from the list.  Gabin got wooed by Hollywood following this film, but preferred the French film world.  World War II changed his mind on that score, however, and he decamped to Los Angeles for a couple years – but was frustrated by the Hollywood system, and got a reputation for being difficult to work with.  His years in Hollywood brought him into contact with Marlene Dietrich, with whom he apparently had a relationship through most of the 1940s, even after he ultimately returned to France.  His insistence that she co-star in his pictures caused further friction with directors, and his career suffered until their 1948 breakup.  He was a little too old for the dashing leads he'd played previously, though, and his career floundered a while until he was cast in a series of films as Jules Maigret, the lead in a beloved French mystery novel series.  The films put him back in the critics' good graces, and he was able to get regular work again until his death in 1976.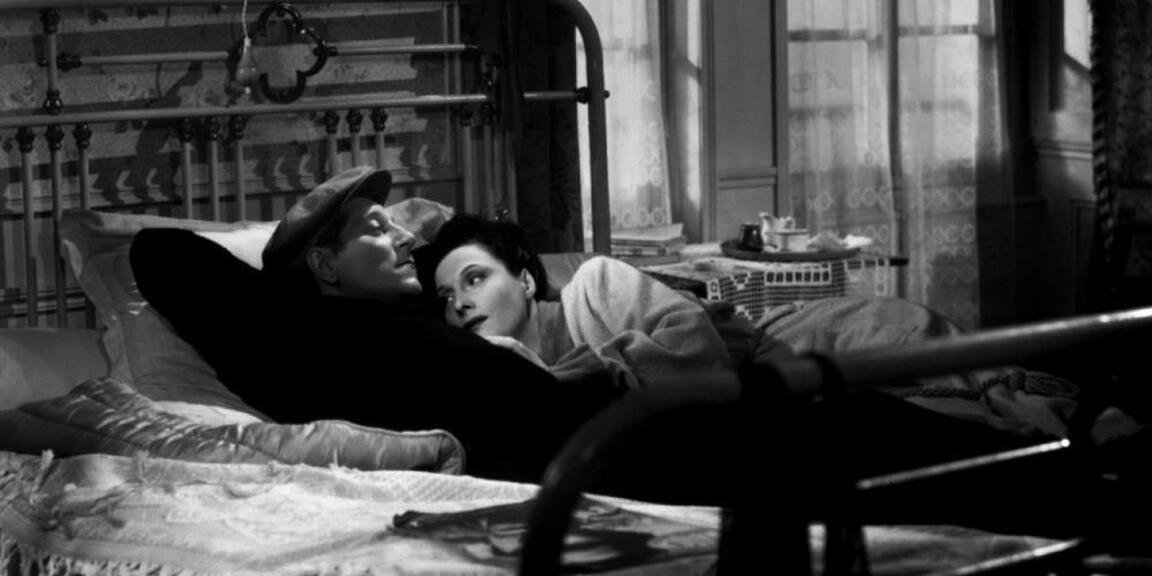 But it's the Gabin of the 1930s that I think will be making my heart flutter a little.