While my intent is to watch everything in chronological order, every once in a while I get a chance to see something in a theater, if I'm willing to jump ahead a few years on the schedule.  Thus – 1942's Magnificent Ambersons, Orson Welles' adaptation of Booth Tarkington's novel about a Midwest family's downfall.  Despite its Indiana setting, it felt strangely like a Southern Gothic story (I joked to Alex when I got home – "who wrote that screenplay, Orson Welles or Tennessee Williams?").
Things kick off in the dawn of the 20th Century, when Eugene Morgan – a poor aspiring inventor, working on a new kind of car – is wooing the lovely Isabel Amberson, daughter of the richest family in town. She actually likes him too, but then snubs him after a grand romantic gesture he's planned goes wrong (he's trying to serenade her under her window and trips and falls on his cello).  She marries the much more sensible Wilbur Minafer instead, pouring all her affection into her only son George – thoroughly spoiling him in the process.  Eugene leaves town to save face, marrying someone else and pursuing his inventions.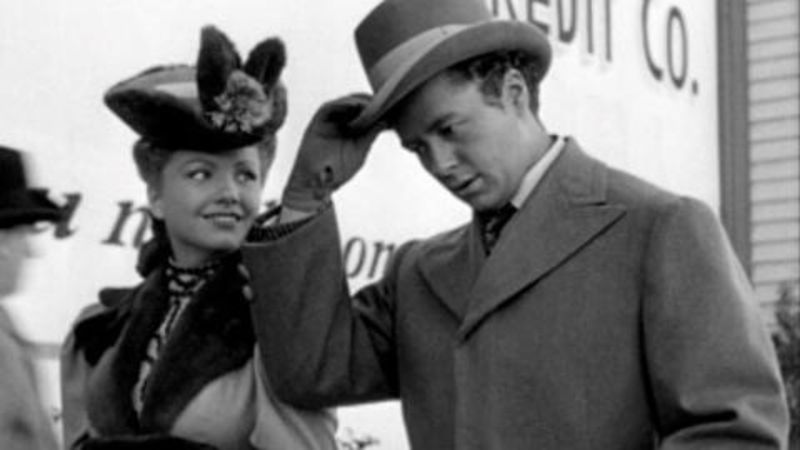 Twenty years later, Eugene comes back.  He's now wealthy (his car design is paying off), a father to a charming daughter, and a widower.  The pair turn up as guests to a ball at the Amberson manse, which still is home to Isabel, Wilbur and George, along with the Amberson patriarch and Wilbur's spinster sister Fanny.  Eugene and Isabel realize they still have the same chemistry, but George – who is ignorant of his mother's prior history with Eugene – isn't impressed by him.  Eugene's daughter Lucy, however, is another matter, and he sets out to woo her.  But the closer he gets to Lucy, the more he dislikes Eugene – especially after Wilbur dies, and Eugene and Isabel start to contemplate renewing their own relationship.  To further complicate things, Aunt Fanny has been harboring a crush on Eugene since she was a girl, and sees in George a chance to finally turn Eugene's affections her way instead.
The original novel was part of a trilogy about the effects of industrial and scientific progress on small-town America. Welles' film does touch on that somewhat – George snubs the notion of "a horseless carriage" repeatedly in the film, and there's an extended sequence where George has taken Lucy out for a carriage ride, but are thrown by the horse and get rescued by Eugene, out for his own ride with Isabel and Fanny.  But the complex web of relationships takes much more of the focus, and has a much stronger impact on the Ambersons' dynastic collapse.  Nearly everyone seems to be wrestling with a pair of conflicting forces – with George, his affections for Lucy and his mother run into his dislike of Eugene. Lucy's affection for George runs into her distaste for his rich-kid habits. Isabel is torn between love of her son and love of Eugene.  Fanny is caught between a lifelong grudge against George and seeing him as a potential ally.  Eugene seems to have the most straightforward story in the whole mess – he loves Isabel and he loves his daughter, and he wants both to be happy; George is his only obstacle in both cases.
I was especially struck by how the film looked. The Amberson house may be the grandest one in town, but everything seemed cluttered, fusty and dour; the ceilings all too low, furniture too showy, rooms too gaudy.  It was a notable change from the spacious, bright sets for Mr. Deeds Goes to Town and Top Hat, in particular – there are scenes set in mansions for those films as well, but they're bright, spacious Art Deco fantasies with immensely high ceilings.  The Ambersons' rooms are all dark and claustrophobic – no doubt intentionally, as it forces the characters close together so they can tear each other apart that much more easily.  One of the most light-filled scenes comes in a train station, when George's uncle Jack is finally taking his leave of the family; he literally walks off into a pool of light, leaving George behind in the dark.  I have yet to see if this is an affectation of Welles', but it definitely suits the story.
Speaking of Welles and Magnificent Ambersons – I would be remiss in overlooking the biggest story from this film's production history. Welles' original vision for the film was longer, and had a different ending – Welles wasn't a fan of the redemptive arc the story ultimately gave George, and shot something more severe. But when he was just about done editing, Welles was recruited by the U.S. State Department to make a film in South America, to drum up Latin American support for the Allied forces during World War II.   Welles finished a rough cut of Ambersons, turned the reins over to his colleague Robert Wise and head south.   The studio screened the film for a test audience, with decidedly mixed results. But instead of consulting with Welles, the studio dealt directly with Wise – giving him a hefty list of cuts and ordering a rewrite of the ending in keeping with the novel.  Welles was understandably upset, but his contract gave the studio final say over the film, so he had little recourse.  In all, nearly an hours' worth of footage was cut from Welles' original version.   Welles' colleagues later said that the original cut would have surpassed Citizen Kane as his masterwork; Welles himself was profoundly hurt by what he saw as a betrayal, and his mistrust of the studio system dogged him for the rest of his career.