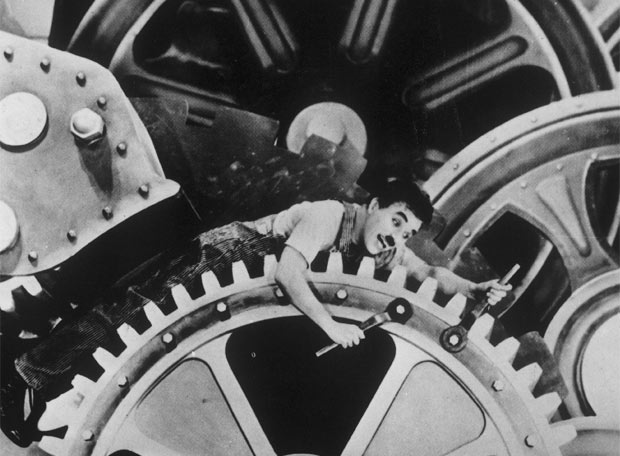 You'll remember I wasn't that big a fan of Chaplin's City Lights – I found it a little too twee, with too much schtick and not enough story to hold it together. Modern Times seems to fix that.
One gag from this film looms large in the minds of many – Chaplin's Little Tramp character is a factory worker, and gets sucked into the machine, winding his way through the oversized gears.  And yeah, that happens, but it all happens within the first ten minutes – it's the culmination of a breakdown Chaplin's Tramp has in an assembly line, after being pushed to repetitiously tighten pairs of screws at a faster and faster rate.  Pushed to the limit, he snaps, and starts trying to tighten everything he sees – doorknobs, faucets, buttons on a lady's coat – finishing up with a dive into the machinery.  He is fished out and sent to an asylum to recover.
And that's largely the end of the "Little Tramp as Factory Employee" part of the plot – and the beginning of the rest of the movie, which is "Little Tramp As Chaplin's Advocate For The Unemployed" plot.  Which I was not expecting.
When the Tramp is released from the hospital, he wanders the streets a bit, figuring out how he's going to get work – and sheerly by accident gets caught up in a Communist Party demonstration and is subsequently arrested.  But when he subverts a prison break – also sheerly by accident – the wardens lavish him with preferential treatment, to the point that when he's released, he immediately commits petty theft in an effort to get himself thrown back in prison again.  But in the paddy wagon he meets "The Gamine" (Paulette Goddard), a just-turned-eighteen orphan who's hiding from Child Protective Services and has stolen some bread to feed herself.  They take a shine to each other, and so when the police wagon crashes, they escape together.  And they're a team through the rest of the film – despite the Tramp getting swept up in and out of jail a couple more times, the Gamine continuing to dodge CPS, and both drifting in and out of jobs; their futures are uncertain at film's end, but they're hopeful, because they're together.
Chaplin had a different ending in mind for the film, where after many go-rounds of one or the other getting into trouble and sent to prison, the Tramp comes home after a stint in jail to find that the Gamine has become a nun.  He visits her convent to say his good-byes, and then leaves, parted from her forever. But ultimately Chaplin decided that this was too sappy – and not quite in keeping with his vision of the pair as being "the only two live spirits in a world of automatons", as the intertitles say at one point.
….Yes, I said intertitles.  Even though this was well into the era of the talkies, Chaplin still produced this as a silent film – or, rather, silent-ish.  He uses sound as the basis for a couple gags – a sequence with a couple of rumbling stomachs, a sequence where the Tramp is trying get a singing-waiter job and improvises a song in Italian gibberish – but having the Tramp speak just plain didn't feel right to Chaplin.  I'm inclined to agree; Chaplin has a definite eye for physical comedy, and here the cuteness is reined in enough to let the gags come out.
One bit that tickled me more than I was expecting came early on, with Chaplin as the guinea pig for an "automatic lunch-feeding machine" – a sort of adult high-chair with robot arms feeding him soup, corn on the cob, meatballs, and pie in turn – and one periodically wiping his mouth with a big sponge in lieu of a napkin.  Of course the machine goes haywire, with food being flung in his hair and his lap and the floor and everything in a three foot radius – but robo-sponge still neatly and perfectly dabbed his mouth every few seconds, which struck me funnier and funnier each time.  Another sequence I liked saw the Tramp in the prison mess hall, where a fellow prisoner has tried to smuggle in cocaine by hiding it in a salt shaker.  The Tramp uses that very shaker – and, as they say, hilarity ensues.  But not too much hilarity – it would have been easy to show The Tramp going completely manic and running amok, but his "cocaine high"  was a lot more restrained – and, I think, funnier as a result.
The ending – and one or two other scenes – reminded several moviegoers of Rene Clair's A Nous La Liberte. Clair's studio, a Franco-German firm called "Tobis," sued Chaplin for plagiarism, demanding financial restitution and ordering that Chaplin withdraw the film from distribution permanently.  The case was fairly weak, and Clair himself was a huge Chaplin fan and begged them to drop the suit.  But Tobis persisted, even renewing the suit every few years over the course of the next decade until Chaplin finally settled to make them go away.  Fortunately, though, Chaplin retained the rights to continue screening the film.