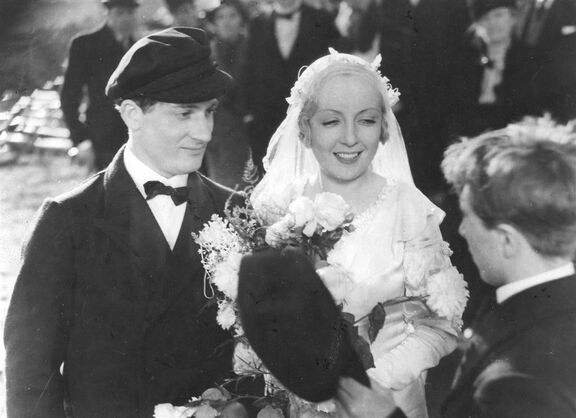 I was baffled by Zero for Conduct, but when I got to director Jean Vigo's follow-up L'Atalante, I was thoroughly charmed.
It's a simple love story that (atypically) begins just after the wedding of our heroes, Jean and Juliette. Jean is the captain of the Atalante, a commercial barge making regular runs on the Seine between Paris and the French coast.  He's just married Juliette, a young woman who's never left the small village where she grew up.  And the opening scene makes clear that Juliette is absolutely desperate to get out of town – so desperate, in fact, that the couple have foresworn the usual reception and march straight out of church to the pier, where they board the Atalante and set off immediately.
Adjusting to life aboard the Atalante is still a little tricky for Juliette.  She and Jean share the close quarters of the barge with Pere Jules (our old friend Michel Simon), the grizzled First Mate; a teenage cabin boy; and about a dozen cats, one of whom gives birth on top of Juliette and Jean's bed the day after their wedding.  When Juliette goes to change the sheets, she discovers that the men have been using the closet as their laundry hamper, and there are no clean sheets. Jean is busy all day at work and has little time for honeymooning.  But Jean loves her, she loves him, and the moments they do find to canoodle keep Juliette happy and seeing the whole thing as a grand adventure.
Jean has also promised that when they get to Paris he will take Juliette out on the town.  But Pere Jules claims shore leave first, slipping off as soon as they dock – leaving Jean stuck watching the boat, and Juliette stuck with him.  He tries to make it up to her by taking her to a dance hall the next town where they dock, but Juliette is still grumpy and dances with another man at the dance hall, prompting a jealous Jean to drag her back to the boat, a move which sparks their first married quarrel.  So when Jean goes to tend to something on the boat, Juliette decides to sneak back off the boat for an adventure; if Jean won't take her exploring, she'll just go alone, that's all, and sneak back on before they depart.  That'll show him!
Except when Jean discovers Juliette is missing, he assumes she's run off with the man from the dance hall – and jealously announces to his crew that they're leaving right then, two hours early, abandoning Juliette.  He almost instantly regrets his decision, but when he returns he can't find her – and the desperate Juliette is all alone in a strange city unable to find him.  What now?
The chemistry between Jean (Jean Dasté) and Juliette (Dita Parlo) is touchingly sweet.  Dita Parlo is especially charming – Juliette has her moments of shock and frustration dealing with her new life, but they always give way to a wide-eyed eagerness to explore. There's a sequence where Pere Jules has caught her in his cabin, borrowing his sewing machine so she can work on a dress; at first he growls and tries to throw her out, but she simply ignores him, asking him to hold the dress still so she can pin up the hem, and then asking him about all the curios in his cabin.  Before long Pere Jules is giggling along with her and showing her his souvenir walrus tusk and pictures from Singapore.
But the film doesn't just treat Jean and Juliette like a cute couple.  It's also refreshingly open about their physical attraction for each other – without being overt about it.  We see them kiss and cuddle a few times, but on board the boat, the only thing we see them do in bed is sleep.  Then comes a sequence while they're separated – a subtly erotic, wordless sequence showing them each alone, in separate beds, tossing and turning; and, it's clear, fantasizing about each other.  Not that we ever see either one strip down naked or start stroking themselves; but the way Jean Vigo cuts from one to the other, showing first Jean stroking the empty spot on the bed beside him followed by Juliette rolling over with a longing sigh, makes it more than clear.  And we are all the more invested in wanting these two crazy kids to get back together.
The public reception to L'Atalante was…tepid. Vigo was a little ahead of his time stylistically, and many critics and audiences found the film meandering and slow.  The distributor tried to cut its losses by releasing a quicker-cut, pared-down version of the film; Vigo was sadly too ill to protest, as his ongoing struggles with tuberculosis had been aggravated by L'Atalante's waterfront shooting locations.  The whole time L'Atalante was in theaters, Vigo was bedridden in his Paris home, and died just a few days after it closed.  Touchingly, his wife Lydou was lying beside him as he died; when she realized he was gone, she jumped out of bed and ran wailing down a long hall towards a window, where friends just managed to catch her before she jumped out.