Actually, the plot covers about four or five nights, but whatever.
It Happened One Night was a surprise hit for all concerned – stars Clark Gable and Claudette Colbert were actually the third or fourth choice for their respective parts, and neither was very enthusiastic about it (after filming Colbert apparently told a friend "I've just finished the worst picture in the world") and director Frank Capra had to jump through hoops to keep the cast happy, including shaving a week off his production schedule at Colbert's behest.  The studio also rolled the film out to theaters slowly.  But then audiences went completely bananas for the film, turning it into a box office smash.  Critics followed suit, and the Academy heaped nominations on the film.  It Happened One Night ended up sweeping the top five Oscar categories that year (Best Actor and Actress, Best Director, Best Screenplay and Best Picture), an achievement matched only by One Flew Over The Cuckoo's Nest in 1975 and Silence Of The Lambs in 1991.
And it is kinda fun, at that. Colbert plays Ellie Andrews, a pampered but overprotected heiress who managed to get out from under her father's thumb long enough to score a city hall marriage to another millionaire before her father dragged her back home.  At the top of the film, her father has her on board the family yacht in Miami, trying to talk her into an annulment (and keeping her a near-hostage so he can have his say). Ellie jumps ship – literally – and makes her way to the local bus station, boarding the next bus for New York City, where her beloved awaits.
She meets Peter Warne (Clark Gable), a down-on-his-luck reporter, on board.  Peter instantly recognizes her – news of Ellie's flight has already started to hit the press – and he hitches himself to her, figuring an exclusive story about "Ellie Andrews' Bus Ride To Love" will give his career a much-needed boost.  Ellie is also somewhat new at the Ways Of The Common Man, and Peter appoints himself her Protector, teaching her how to camp out in a hayfield and score rooms in motels.  He even has opinions on the correct way to dunk a donut into coffee.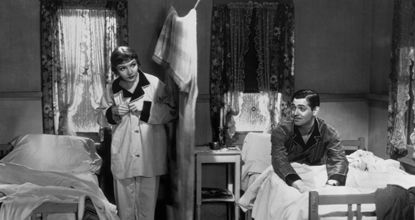 The pair are forced to share a number of motel rooms, Peter checking them in as a married couple for decorum's sake.  To placate Ellie further, he rigs up a blanket wall dividing their beds each time, nicknaming the barrier "The Wall of Jericho".  Of course, a blanket isn't all that strong a barrier, especially as the pair continue to get acquainted on the road…
I was strangely reminded of the Kathleen Turner/Michael Douglas film Romancing The Stone, a favorite of mine when I was fourteen.  It had a similar fish-out-of-water heroine on a quest, and a rough-around-the-edges rogue who somehow gets drafted as her protector. And over the course of the travel and the bickering, they fall for each other.  But It Happened One Night covers way more of the class difference between Ellie and Peter.  She doesn't know how to budget her money, she doesn't think to watch her bag while the bus is on a break; and soon she finds her bag has been stolen and her money is running out.  But a couple nights later and she is comforting another passenger traveling north looking for work, and is joining a bus-wide singalong to "The Man On The Flying Trapeze."
Ellie also has more wit and sass than Turner's character had; in one of the film's classic scenes, Peter boasts about his hitchhiking prowess, then utterly fails to stop any one of a parade of passing cars.  Ellie then asks to try her technique.
In an earlier scene, some private detectives sent by Ellie's father are searching the motel where they're staying – and manage to escape thanks to posing as a feuding couple, a performance Ellie seems to really enjoy.
However, Peter also enjoys his part – a little disconcertingly much.  Alex was eager to watch this with me – he'd seen it in college and had good memories of it – but when the film ended, he had a troubled look.  "….there's some gender-relations stuff in there that has not aged well," he said.   We discussed that a bit, guessing that the "Me Too" movement today was casting everything in a different light. Peter is cast as Ellie's rescuer, helping her get used to budgeting money and trying to ensure she's safe and sound as they travel.  But he does so by barging into her company and barking orders – at one time even taking her money away from her, lecturing that she's too irresponsible with it.  We both liked the hitchhiking scene – and I realized that one reason why I liked it was because it was one of the few scenes that Ellie is depicted as Peter's equal.
I mean, there are some fun and charming enough moments in the film, and our reaction was very much colored by the present climate.  It's too soon to tell how long that color will last.