Name it quick, without looking it up: who made the first full-length animated feature film?  I bet you said "Walt Disney" – and a week ago, so would I.  But we would be wrong.  This film pre-dates Disney's Steamboat Willie by two years, and was made by the German artist Lotte Reiniger – and even better, she was working mostly alone, using a camera and animation technique she invented herself.
Usually I talk about the film a lot when I post these reviews, but Reiniger's story deserves to take precedence this time.  As a girl in turn-of-the-century Berlin, she was fascinated by Balinese shadow puppets and Chinese paper silhouette art, to the point that she made a puppet theater and put on shows for family and friends.  Then film caught her eye as a teenager, and she started thinking of ways to combine film with her shadow puppetry.
Reiniger started working with a theater company owned by Max Reinhardt, an early German filmmaker.  She had no theatrical aspirations, but Reinhardt's work in film drew Reiniger's eye.  She ended up working closely with company member Paul Wegener, another actor-turned-filmmaker; Wegener first called on her to create silhouettes for the title cards for his films, then asked her to try coming up with a way to animate the mice for a film about the Pied Piper.  She used her cut-paper puppets for the mice, and was almost immediately invited to join the Institut für Kulturforschung (Institute for Cultural Research), a new animation studio.  There, she made shorter films – many of which played to sold-out houses, even though they were only a few minutes long – and did some advertising work as well.
Animated films were traditionally short in the early days of cinema – largely because of the painstaking work needed to produce them, but also simply because of tradition.  Animated films were the appetizer before the main pictures, little throwaway cartoons meant as a quick laugh.  In fact, the only reason that Reiniger ended up doing a full-length film was because a colleague, spooked by Germany's economic inflation, panicked one day and bought up a huge stash of raw film before it got too expensive; then, when he calmed down and saw how much film he had, he realized he should probably do something with it.  He approached Reiniger suggesting a full-length animation, but the amount of work it would entail gave her pause – as did doubts about whether animation could sustain a full-length story.  After some thought, however, she agreed, and started work on Prince Achmed.
Reiniger came up with an animation table that used layers of panes of glass set into a hole in the table; different layers of glass had different cut-out images on them.  The most "active" elements were all on the top pane, so it could be easily lifted up for the cutouts to be changed.  A light underneath the glass projected the shadows, and a regular camera fixed in place above the glass captured each frame. For the smoothest animation, Reiniger had to capture six frames per second.  The film took two years to complete.
But my word it's gorgeous.
The story itself is a gumbo of plot points taken from the Arabian Nights collection of folktales.  Our hero, Prince Achmed, is the son of the Caliph, tricked into a ride on the back of a magic flying horse conjured up by an evil magician.  By the time Achmed figures out how to land he's been spirited away to the land of "Wak-Wak", where he cavorts with a series of temple maidens before meeting Peri Banu, their princess.
But then Peri Banu gets kidnapped by a Chinese emperor and the horse gets stolen, and Achmed must come up with a way to save her – enlisting the help of a witch living inside a volcano, and meeting Aladdin in the process.  The witch has a grudge against the magician who started all the fuss so she's more than happy to help.
And just like with all fairy tales, there's a happy ending, with Peri Banu rescued and the magician vanquished.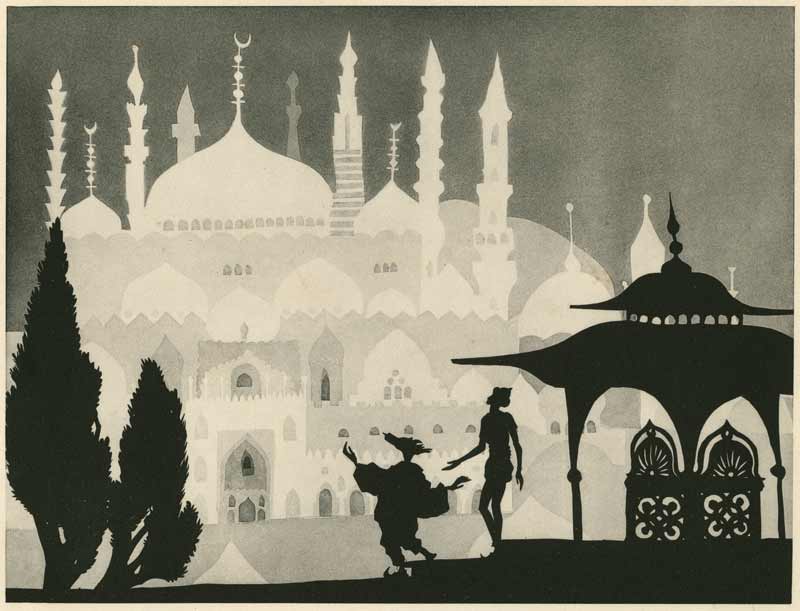 Reiniger's cutouts are amazingly intricate; there are lace details, patterned screens, hydra-headed beasts, shifting leaves and feathers, and sparkling stars throughout.
Even the motion – sometimes it's just a little finger or a rolling eyeball, but it manages to come across with expression.
After it was completed, Prince Achmed got held up a further year waiting for a distributor; but was a smash success when it was finally released in 1927.  Reiniger was able to make a second similarly-animated film based on the Doctor Dolittle novels, and then tried her hand at directing a live-action film (about a shadow puppet troupe).  However, her live-action film was just finishing production right when sound films were gaining in popularity, so Reiniger had to pull the actors back in to loop in their dialogue; this delayed release of the film, and the actors' skill in dubbing apparently wasn't very good.
Reiniger's luck kept on a downswing during the 1930s, as she and her husband desperately tried to relocate out of Germany to escape the Third Reich.  Unfortunately, they weren't able to get a permanent residency visa anywhere, so she and her husband kept relocating from country to country, moving to whereever they could get a temporary visa and staying there until the visa expired.  Nevertheless, Reiniger made twelve more films in this period.  Ultimately she had to return to Berlin in 1944 to care for her elderly mother.  Fortunately Hitler's regieme left her personal liberty intact, but creatively, Reiniger was stuck making propaganda films for the Third Reich until war's end. Finally, in 1949, Reiniger got a visa to resettle in London, where she made a series of animations for the BBC in the 1950s.  Ultimately she returned to Berlin, where she died in 1981.
She's not that well known here; but animators definitely know of her. Her animation technique is a precursor to the cel-based stop-motion technique used by studios throughout the 20th century.  A sequence from Disney's 1940 film Fantasia features Mickey Mouse silhouetted against a colored background, in homage to Reiniger's design style.
More recently, the character "Prince Achmed" in Disney's Aladdin may have also been a nod to Reiniger's work.
Finally, Reiniger is also a name amongst puppeteers.  When I spoke with a puppeteer acquaintance, he reminded me that there was a Google doodle recently that paid homage to Reiniger, done in her style.