So this movie was….
Hmm.  I sincerely do not know how to finish that sentence.  "Experimental" and "avant-garde" spring to mind.  As do "non-linear", "a product of its time" and "….weird".
Actually, let's go with what Man With A Movie Camera was in a literal sense.  It was a big passion project for Soviet documentarian Dziga Vertov, who had been growing increasingly uncomfortable with the general direction that film was taking as an art form.  He'd been struck by Nanook of the North a few years prior, and its use of "real" footage of Inuit life; even though that film did set up some shots, it also contained some footage of true-to-life Inuit customs – things that Vertov would never have seen if they hadn't been filmed.  He was captivated by film's ability to show people "real life" from far away.
However, instead of following the path into documentary, he feared the film industry was producing too much fiction and fantasy.  Even when there were movies about real events, like the  Battleship Potemkin, for instance, Vertov was disappointed to see filmmakers relying on re-creating and restaging events, rather than using footage of the event itself.  Or they would tell a fictional story about peasants instead of just filming the peasants.  Directors were getting stuck in studios, he feared; and he believed film could – and should – go anywhere.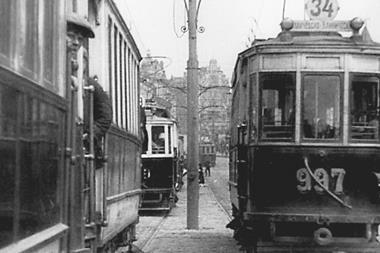 Man With A Movie Camera was Vertov's attempt to prove his point.  There's no plot as such – it is simply a collection of footage Vertov shot in a variety of places in and around Soviet cities to show "real life".  Shots of trolleys in Odessa are followed by footage of mannequins in storefronts, followed by a sequence of a woman getting out of bed and dressing for the day.   Shots of homeless men sleeping on benches are followed by footage of a woman giving birth, and later there are shots of women at an exercise class at a beach followed by shots of men repairing machines.
Vertov also uses some nascent "special effects" like split screens and odd camera angles, to further illustrate "what film can do".  The whole film opens with a split-screen effect, giving the appearance of a tiny cameraman scaling to the top of a mountainous camera and setting up to begin filming:
That cameraman appears now and again throughout the film, to underscore Vertov's point; riding in the back of a truck, camera in hand, or setting up at a beach, or striding down Moscow streets.
The only intertitle in the piece is a short manifesto statement at the beginning, where Vertov declares the film to be "AN EXPERIMENTATION IN THE CINEMATIC COMMUNICATION Of visual phenomena" and then goes on to declare that he is forgoing  intertitles, a plot, or set, or costumes, or any other of the conventions of theater.  Film could be a wholly different creature, Vertov believed.
For those expecting a conventional film – like the audiences of the time, and I suppose like me – it is a confusing document, and you do find yourself trying to grab onto a plot like you're used to. About midway through, I realized this was actually more like the later experimental film Koyaanisqatsi – simply presenting an assortment of footage in an effort to wordlessly convey a message.  And in Vertov's case, the message seems to simply be that such a film is possible.